The Federal Tax Cuts and Jobs Act
In December 2017, President Trump signed into law the Tax Cut and Jobs Act, a significant change to the country's tax code that moved so quickly many of the policies enacted in the bill were handwritten in the margins.
The Institute on Taxation and Economic Policy has produced a helpful timeline of enactment and implementation of the law and the ongoing questions about the impact of these changes to our country's ability to fund core public programs and services, as well as address rising inequality.
The Budget & Tax Center has produced the following analysis of the ways in which the federal tax bill are playing out for taxpayers in our state, both in terms of who benefits and the public programs that will be affected.
New federal tax law will hurt many, benefit the wealthy few: Analysis of the Federal Tax Cuts and Jobs Act confirms that our country's tax code has now been changed in a way that benefits wealthy taxpayers and foreign investors while asking more from low and middle-income taxpayers. The new law also paves the way for significant reductions in the federal programs and services that ensure the economy is functioning efficiently and effectively, and that more people are connected to opportunities.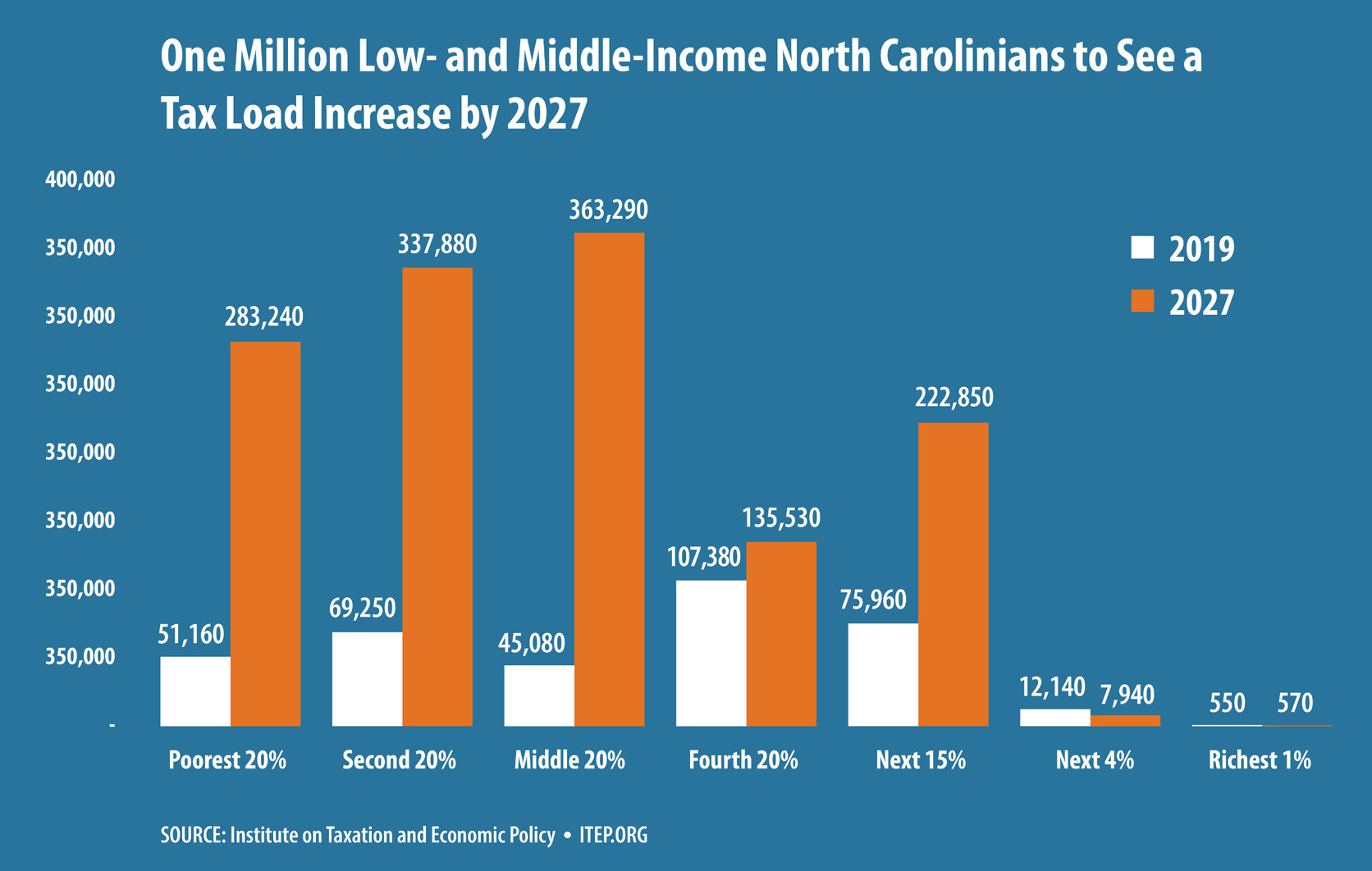 Corporations over Carolinians? This report looks at how corporate taxes have been slashed at the state and federal levels, provides evidence that wealthy shareholders are the prime beneficiaries of corporate tax cuts, and shows that corporate tax cuts have not solved North Carolina's most pressing economic problems. All of these facts point in the same direction: It is time to stop lavishing unneeded tax cuts on wealthy corporations, and get serious about ensuring that employees share in the wealth that they are creating.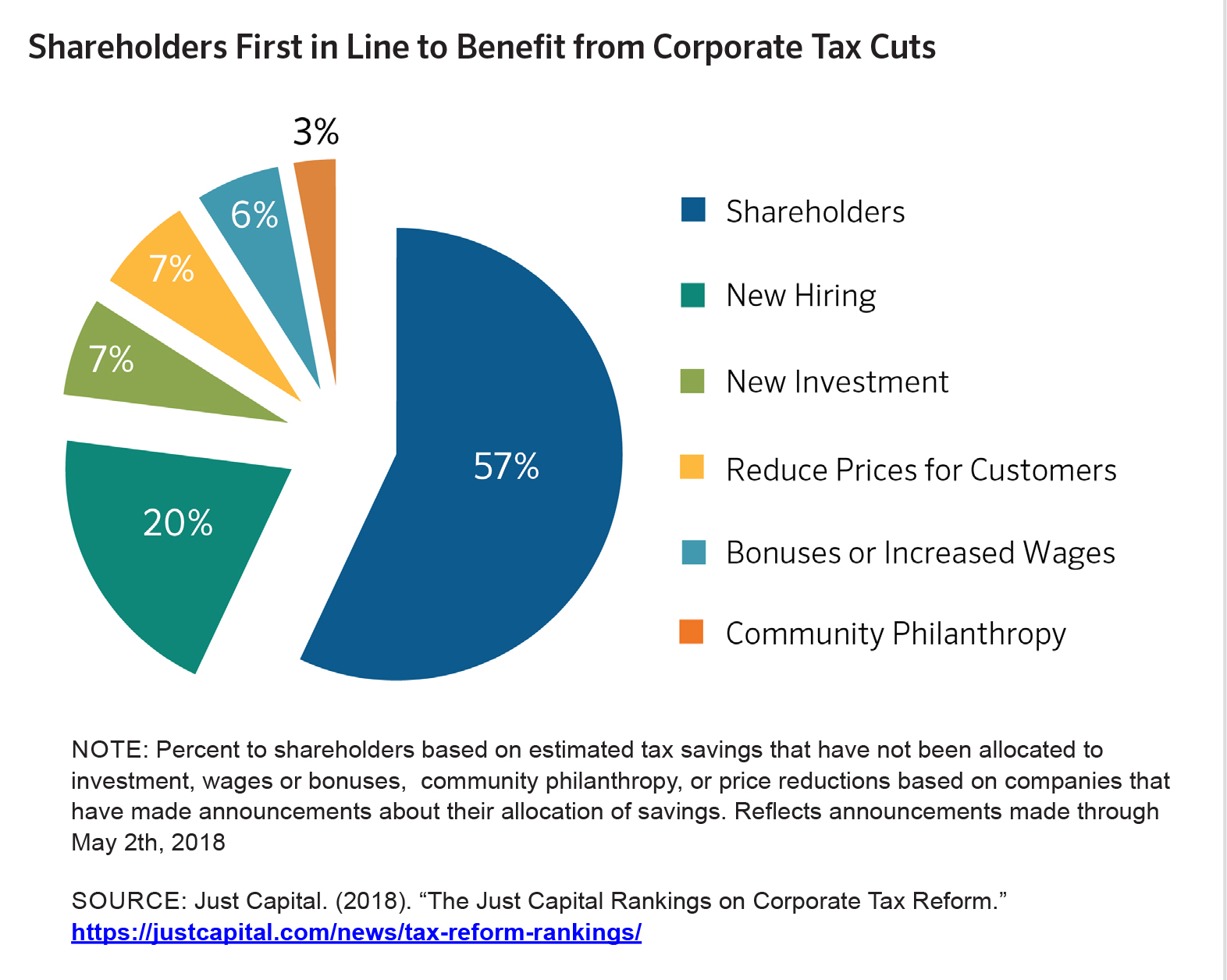 Opportunity Zones
Opportunity Zones were enacted as part of the Tax Cut and Jobs Act in December 2017.  The goal is to drive private, long-term capital to distressed census tracts by providing investors tax breaks on capital gains. The tax breaks depend on the length of time taxpayers are willing to hold their capital gains in specially created Opportunity Funds, which target these chosen Opportunity Zones.
The temporary deferral of capital gains — and even permanent exclusion from taxation — is a tax break that erodes the federal tax base and, therefore, should be highly monitored to ensure that a public return is achieved.
An estimated $2.2 trillion in unrealized capital gains are currently held by individuals and companies.[1] Estimates of the potential dollars at play from North Carolina taxpayers alone each year are roughly $936.6 million. [2]
To find out more about Opportunity Zones enacted under the Tax Cut and Jobs Act and the ways that communities can maximize the benefits and minimize the harm, visit our equitable development page.
[1] Reilly, R. (2018, February 8). Breaking Down the Benefits of Investing in the Opportunity Zones Program. Retrieved June 23, 2018, from https://www.enterprisecommunity.org/blog/2018/02/benefits-opportunity-zones-program
[2] Special Data Request, July 2018, Institute on Taxation and Economic Policy.
About our federal budget & tax work
State level decisions are often impacted by what is going on at the federal level. Particularly important in the current federal debate with significant implications for North Carolina are discussions of deficit reduction and tax policy.
Federal Tax Policy – The country, like the state, is in need of revenue reform that can improve the alignment of the tax system with ability to pay and ensure that investments can be made to support the economic recovery and a strong economy moving forward. Key to progressive federal revenue reform will be eliminating the Bush-era tax cuts for those earning more than $250,000. The Budget and Tax Center analyzes the federal tax system, its progressivity and adequacy, and how it impacts North Carolinians.
Deficit Reduction – Deficit reduction has been a significant part of the public debate in recent years. The Budget and Tax Center analyzes deficit reduction proposals with an eye to their impact on North Carolina and communicates with and informs partners and North Carolinians about the importance of these federal discussions to their everyday lives.