Higher Rates on Higher Income is Good Policy for North Carolina
For North Carolina, a graduated tax structure that taxes higher incomes at higher rates could serve as one tool to raise revenue for priorities in communities across our state to support access to opportunity. In particular, a graduated rate structure that places a top marginal rate on income over $1 million would make revenue available for priorities in communities across the state, like supporting classroom investment, water quality, and monitoring and creating a more affordable post-secondary education system. Moreover, a millionaire's tax — and moving to a graduated income tax structure that sets higher rates on higher income — can help North Carolina invest to decrease racial inequities, build economic opportunity, and spur growth.
Read the Brief: Higher Rates on Higher Incomes 
Tax Cuts will Reduce Revenues by $900 Million
North Carolina's budget for 2017 to 2019 included another round of tax cuts. Once fully implemented, these tax changes will reduce annual revenue by $900 million, putting at risk investments in our children's education, our family's health and well-being and our community's economic vitality.
You can read our full analysis here.
For background on the cumulative changes to the state's tax code since 2013, here is more information.
Tax Cuts Won't Grow the Economy
Proponents of tax cuts continue to push a mantra of low-income taxes being a major driver of state economic growth. Research and past experience, however, has proven this approach unlikely to deliver promised economic results. Instead it can be counterproductive. Investing in K-12 education and colleges, infrastructure projects across the state, and more targeted support for main street and neighborhood revitalization initiatives presents a much better economic development strategy that helps drive the state forward. Check out more in our Policy Basic on The Reality of Tax Cuts.
N.C.'s Tax Code Funds Investments in Our State
North Carolina's revenue system funds investments in the public structures—schools, courts, hospitals, colleges, universities, and infrastructure—that are critical to building and preserving a strong middle class and a 21st-century economy. It is important that North Carolina have adequate resources to make these investments—but how that revenue is raised is important, too.
In recent years, North Carolina's approach to taxation has made our tax code more upside-down, asking more of low- and middle-income taxpayers and less from the wealthy and large corporations. The state also has far fewer dollars to meet the needs of a growing population seeking to adapt to a changing economy and respond to natural disasters.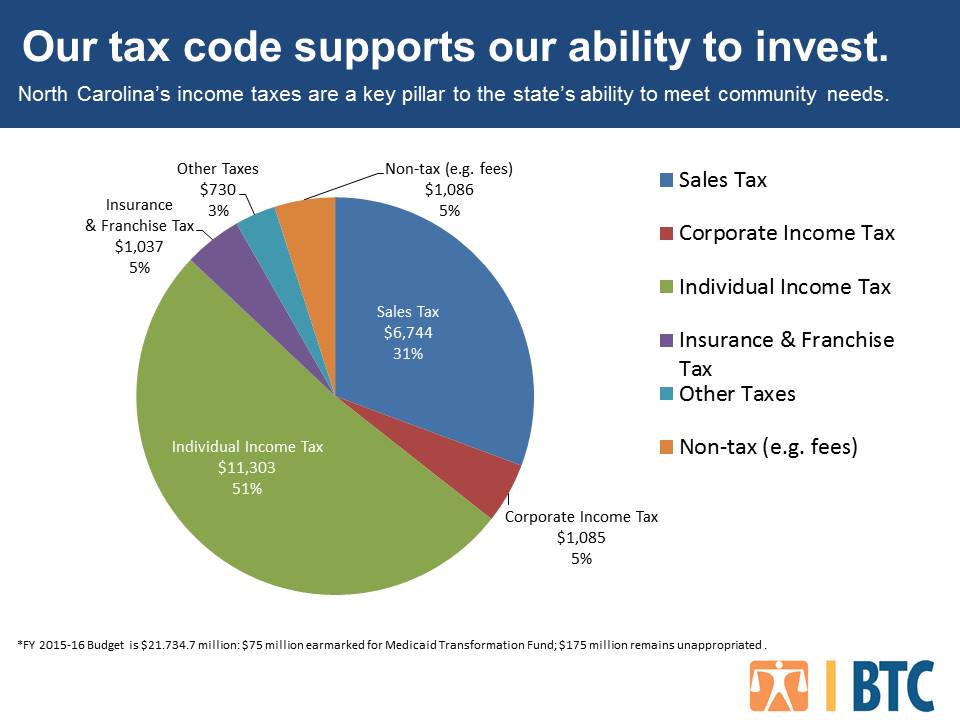 Tax Cuts: Wrong Choice for N.C.
The tax changes enacted since 2013 have held the state back from critical investments that will strengthen economic opportunity and the economy for the future and failed to address underlying systemic issues in our economy. Yet leaders in the NC General Assembly continue to pursue income tax cuts year after year.
Analysis by the Institute on Taxation and Economic Policy (ITEP) finds that North Carolina would have $3.5 billion more in annual revenue if state lawmakers had not changed the tax system that was in place in 2013.These dollars could have been invested in programs and services demonstrated to connect more people and places to economic opportunity, generating higher earnings for middle class workers and supporting thriving communities in rural communities and urban neighborhoods across the state. Tax cuts aren't the tool North Carolina needs to build an economy that works for everyone.
Share these graphics on social media with #WrongChoiceNC!