RALEIGH (June 3, 2020) — Local labor market figures for April released today show the wave of job losses due to COVID-19 sweeping across North Carolina.
"We haven't done nearly enough to support people and communities having a rough go of it right now," said Patrick McHugh, Research Manager with the North Carolina Budget & Tax Center. "Unless we focus more state and federal assistance on people bearing the brunt of this storm, we're going to see a replay of the Great Recession when a lot of people of color, people working for the worst wages, and rural communities never recovered."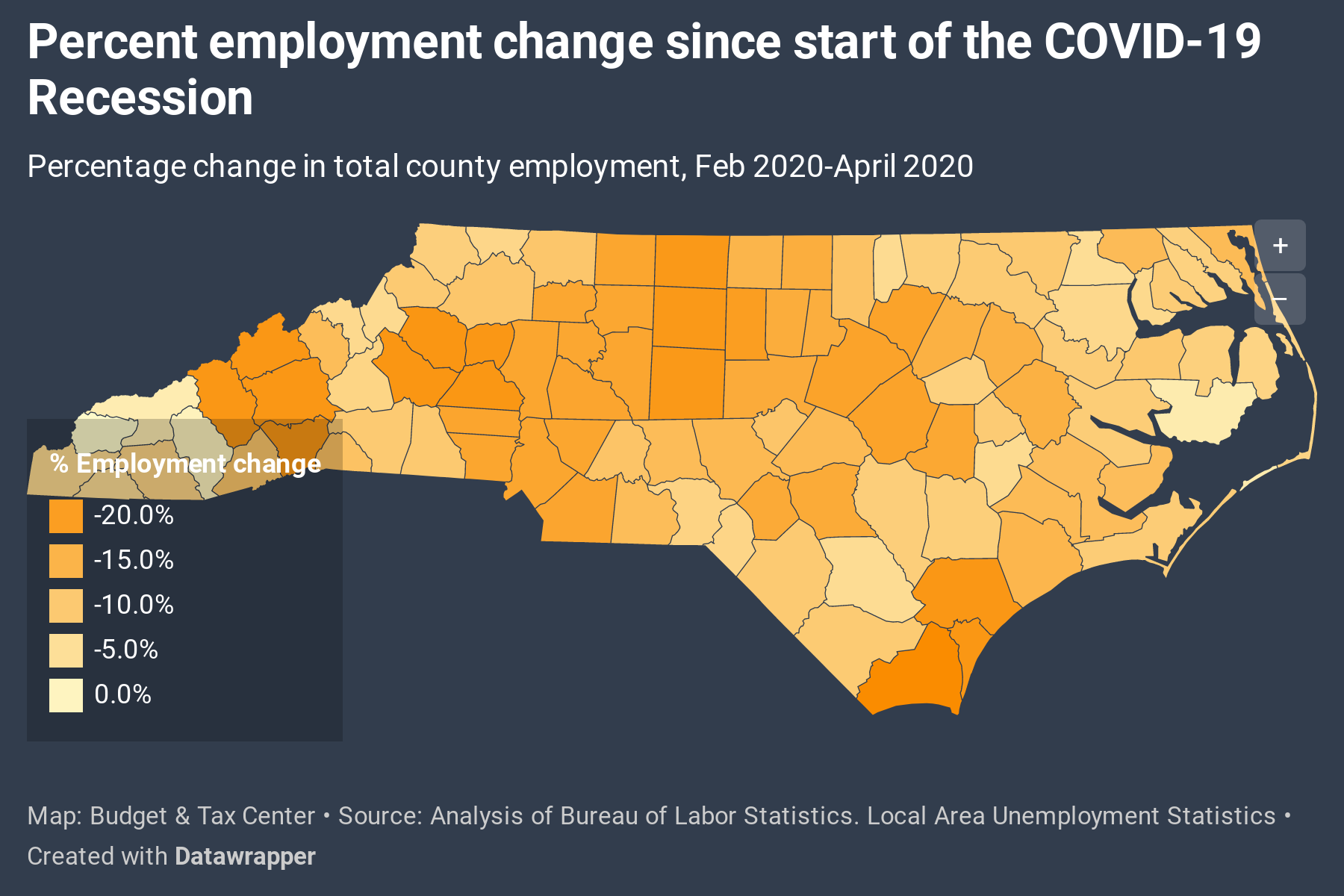 Economic challenges facing North Carolina include:
March and April wiped out all of the employment gains since the Great Recession in 90 of North Carolina's 100 counties: While 10 counties that saw the largest employment growth since the Great Recession still had marginally more jobs than they had before the Great Recession by the end of April, ongoing job losses could easily mean that every part of the state sees all of the job growth since 2007 erased in the COVID-19 recession.
Communities reliant on travel and tourism seeing some of the worst losses: Some of the worst impacts of the COVID-19 pandemic are being felt in coastal and mountain communities that rely the most on travel and tourism to bring dollars into their local economies.
People paid low wages experiencing the heaviest job losses: April job losses were heaviest in some industries such as food services, hospitality, and retail that pay the worst wages, directing the heaviest economic blow to people with the least financial cushion. The Federal Reserve estimated that 40 percent of households with incomes below $40,000 included someone who lost a job in March, a figure that is certainly far higher now after more weeks of employment losses.
Women far more likely to lose their jobs in this crisis: Local labor market figures are not broken down by gender, but other data sources show women are significantly more likely than men to have lost their jobs. Payroll data also indicate that women accounted for nearly 60 percent of job March losses and 56 percent of the people who filed for North Carolina unemployment insurance in April.
For charts showing the most recent labor data county by county, including the context of COVID-19 effects, visit the Budget & Tax Center's Labor Market page at NCJustice.org/labormarket.
For more context on the economic choices facing North Carolina, check out the Budget & Tax Center's monthly Prosperity Watch report.
For daily updates on the number of Unemployment Insurance claims and ongoing analysis of the economic impact of COVID-19, visit NCJustice.org/labormarket.
The Budget and Tax Center conducts non-partisan analysis of state budget and tax policy and monitors economic conditions in the state. We produce timely and accessible research that contributes to policy discussions and public debate, with the goal of building a broader understanding of the role of policy in supporting economic opportunity for all.
FOR MORE INFORMATION, CONTACT Patrick McHugh, Budget & Tax Center Research Manager, at Patrick.McHugh@ncjustice.org or 919-856-2183; or Mel Umbarger, Senior Communications Specialist, at mel@ncjustice.org.