Most N.C. counties, cities, and towns struggling to cope with economic impacts of COVID-19
RALEIGH (Dec. 2, 2020) — With the COVID-19 virus surging in many communities, labor market figures released today show the economic harm of the pandemic remains widespread across North Carolina. The vast majority of communities are nowhere near the level of employment that existed before the virus struck, and some of the worst economic effects are concentrated in communities that had the hardest time coming back from the Great Recession.
"Progress to erase the job losses from this pandemic doesn't mean we have removed the harm for everyone or that we are in a better position than we could be with greater support for N.C. working families," said Patrick McHugh, Research Manager with the North Carolina Budget & Tax Center. "Even in the best case, we're going to be dealing with this pandemic well into next year, and it's vitally important for Congress to keep families afloat and help our economy to recover."
Click for charts with new labor market data
Economic challenges facing North Carolina include: 
The worst economic impacts are shifting away from North Carolina's largest cities: When COVID-19 struck, the worst initial economic impacts were concentrated in North Carolina's largest cities and parts of the state that rely heavily on tourism. As the pandemic has worn on, some of the larger urban areas have recovered more from the initial shock, leaving many of the worst lingering effects in smaller regional cities and rural parts of eastern and western North Carolina. This raises a real danger of many communities that never fully recovered from the Great Recession seeing more long-term economic damage from COVID-19
COVID-19 has erased all job gains, or deepened losses, since the start of the Great Recession in a majority of counties: Nearly 60 of North Carolina's 100 counties had fewer jobs in October of this year than before the Great Recession. Many parts of the state had never recovered all of the jobs that disappeared in the Great Recession, so the losses during COVID-19 are further compounding a long-term problem. In many other counties, all or nearly all of the jobs that had been created since 2009 were wiped out in the first few months of the COVID-19 pandemic.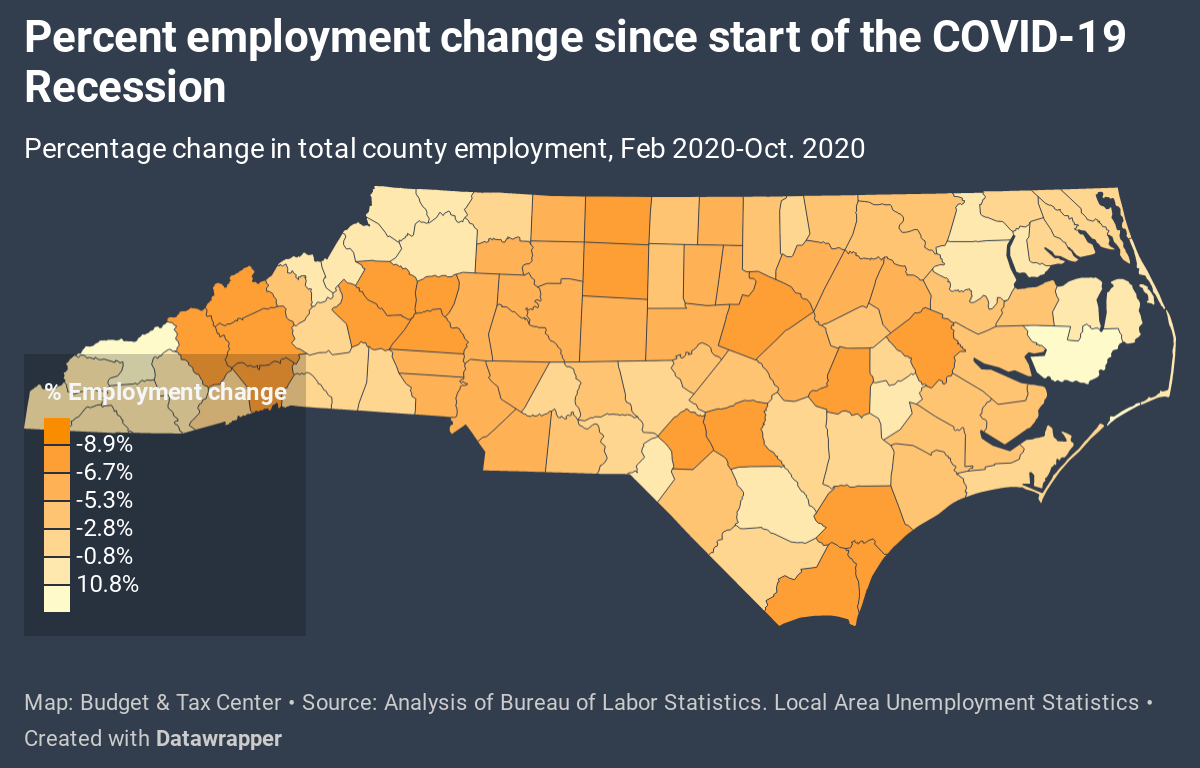 North Carolina's regional employment engines have seen the worst employment losses. Cities across North Carolina that often serve as the employment hubs for their entire regions have been particularly hard hit by the COVID-19 pandemic. Regional job centers that have experienced some of the worst declines since February include Asheville (-8.9%), Hickory-Lenoir-Morganton (-8.3%), Goldsboro (-7.6%), Fayetteville (-7.4%), Wilmington (-7.2%), Greensboro-High Point (-6.9%), Greenville (-6.8%), Raleigh (-6.8%), Durham-Chapel Hill (-6.6%), Rocky Mount (-6.0%), Charlotte-Concord-Gastonia (-5.8%), Winston-Salem (-5.6%), New Bern (-5.2%), and Burlington (-5.1%).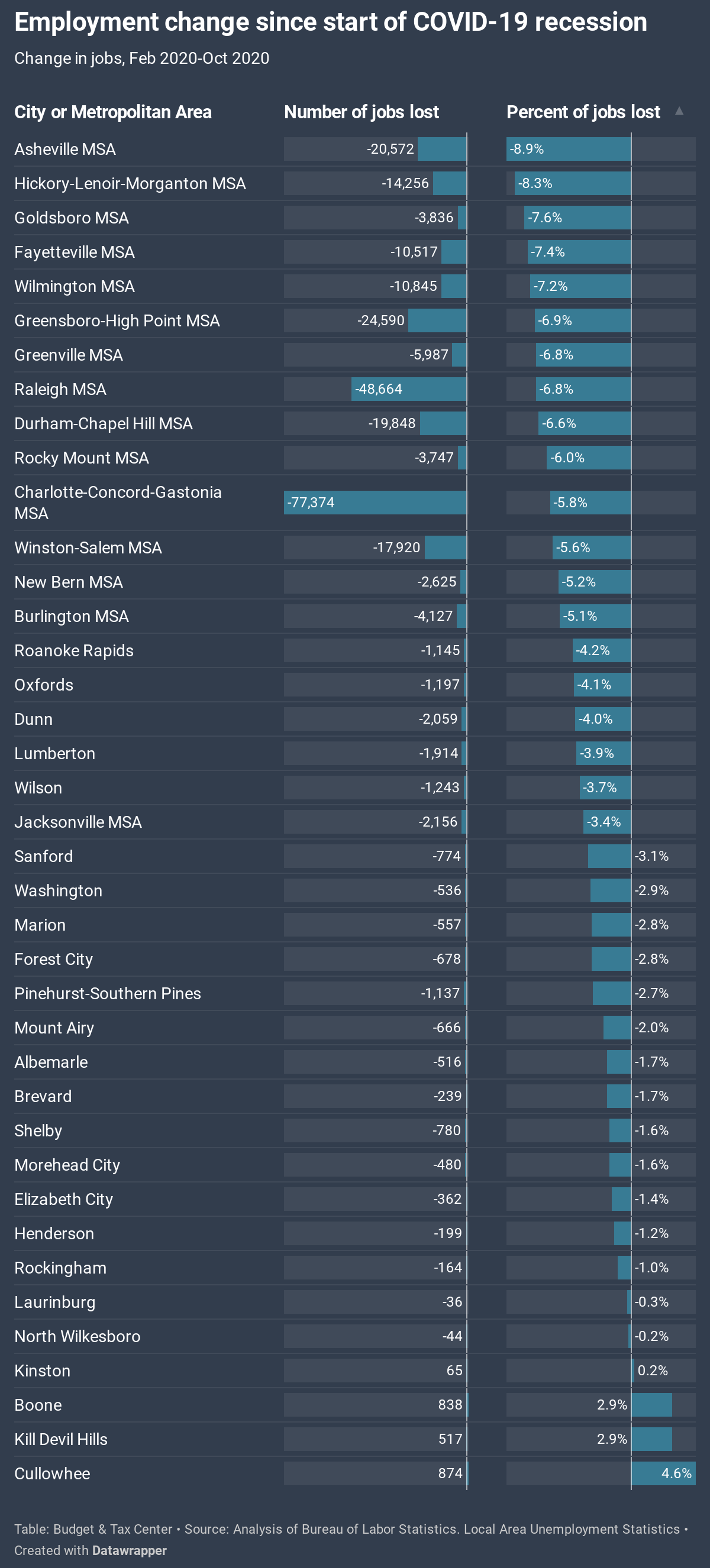 For charts showing the most recent labor data and COVID-19 job data, visit the Budget & Tax Center's Labor Market page at www.ncjustice.org/labormarket.
For more context on the economic choices facing North Carolina, check out the Budget & Tax Center's Prosperity Watch report.
The nonpartisan Budget & Tax Center is a project of the NC Justice Center, which works to eliminate poverty in North Carolina by ensuring every household in the state has access to the resources, services and fair treatment it needs to achieve economic security. 
FOR MORE INFORMATION, CONTACT Patrick McHugh, Budget & Tax Center Research Manager, at patrick.mchugh@ncjustice.org or 919-856-2183; or Mel Umbarger, Budget & Tax Center Senior Communications Specialist, at mel@ncjustice.org.