While much attention is being paid to the September national and state unemployment rates of 3.3 percent and 3.5 percent, one risks overlooking serious regional challenges that undermine the broader prosperity of North Carolina as a whole.  September's local and metropolitan labor market report revealed that 77 counties in North Carolina with unemployment rates the same or higher than September 2018, 51 counties with rates higher than the state unadjusted average, and 42 counties that have lost jobs since December of 2007.
Rural, eastern North Carolina is over-represented in this group of economically distressed communities. In fact, 26 of the 42 counties that have lost jobs since the beginning of the Great Recession are from these county groupings. The northeastern part of the state is host to a group of counties – Vance, Warren, Halifax, Edgecombe, Wilson, and Hyde – whose unemployment rates are all nearly 2 percentage points higher than the state's September average. Also, counties on the state's southeastern border with South Carolina – including Richmond, Scotland, Hoke, Cumberland, Robeson, Bladen, Columbus, and Brunswick counties – all have jobless rates at least 1 percentage point higher than the state average.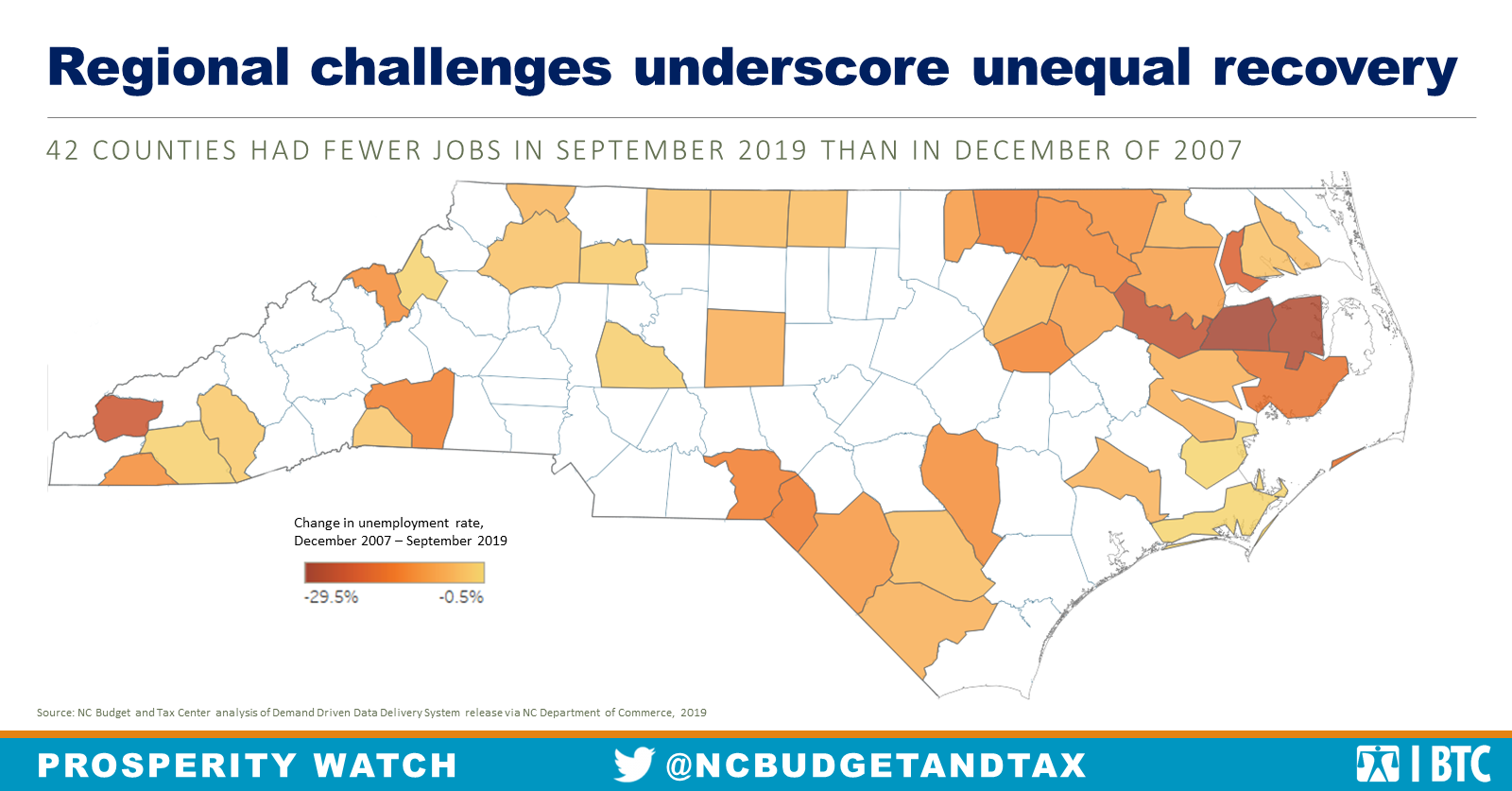 In addition to the state's highest regional concentration of high unemployment, eastern NC counties make up 26 of the 42 counties that have lost jobs since the beginning of the Great Recession. Three of the four are "Double whammy" counties: those that have jobs since December of 2007 and year-over-year are in the eastern part of the state. Martin, Vance, and Washington counties have lost nearly 6,500 jobs since the beginning of the Great Recession, a loss of 18 percent of the nearly 36,000 jobs combined from 12 years ago.
As the end of 2019 approaches there is no question that after 12 years the state has not recovered equitably. Too much of rural North Carolina is mired in economic distress that is not happening in many urban spaces. This imbalance leaves the entire state, and particularly rural communities, exposed to collective harm caused by natural disasters and economic downturns.