We are excited to invite you to our annual Defenders of Justice Awards – and this year we will come together virtually!
2020 Defenders of Justice Awards
When: Sunday October 4, 2020 from 6:00 to 7:00 pm
with a pre-event cocktail reception from 5:30 to 6 PM
Where: Online, Virtual Event

Please join us 30 minutes earlier to mingle in our virtual cocktail hour! We hope to see you there!
We invite you to join us as we come together to celebrate the inspirational work of outstanding leaders in our community who are leading the fight for justice. These few exemplify our mission—they are working to eliminate poverty in North Carolina to ensure the creation of an economy that works for everyone. They are at the front-lines of advancing progressive and inclusive policies that advance equity and opportunity in our state.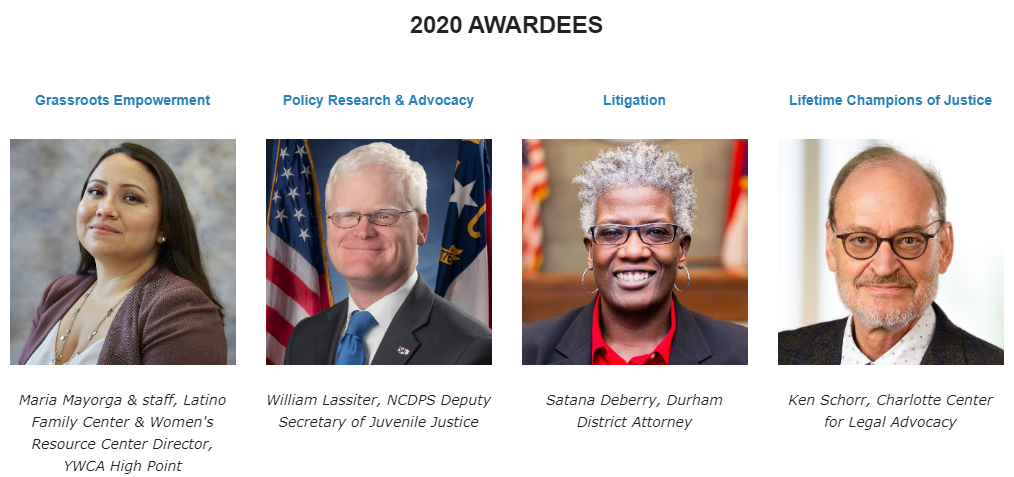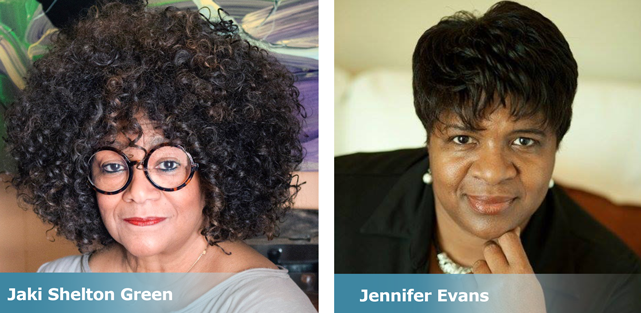 Special Presentation by NC Poet Laureate, Jaki Shelton Green
Music by Jennifer Evans
SPONSORSHIPS
Titanium – $10,000
Two reserved tables for 8 to the awards ceremony, two special presentations by NC Justice Center staff on the topic(s) of your choice at the North Carolina location of your choice, recognition as a Titanium Sponsor by the Master of Ceremonies, sponsorship recognition on the NC Justice Center website, with logo and link to landing page, and listing as a Titanium Sponsor on the event signage

Platinum – $5000 Level
Two reserved tables for 8 to the awards ceremony, recognition as a Platinum Sponsor by the Master of Ceremonies, sponsorship recognition on our website, with logo and link to landing page (if applicable), and listing as a Platinum Sponsor on event signage
Gold – $2500 Level
Reserved table for 8 to the awards ceremony, recognition as a Gold Sponsor by the Master of Ceremonies, sponsorship recognition on our website, with logo and link to landing page (if applicable), and listing as a Gold Sponsor on event signage
Silver – $1000 Level 
4 tickets to the awards ceremony,  sponsorship recognition on our website, listing as a Silver Sponsor on event signage
Bronze – $500 Level 
2 tickets to the awards ceremony, sponsorship recognition on our website and listing as a Bronze Sponsor on event signage
If you cannot attend the event and would like to make a general gift to DOJ 2020, please follow this link: https://ncjustice.salsalabs.org/doj2020donations
Thank you to our sponsors!
Titanium
Noel & The Honorable Richard Moore
The Michael & Karen Schley Foundation
Platinum

Lonna & Richard Harkrader
Fred Mills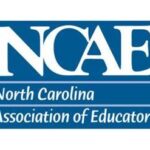 Gold
Tom Kenan



Suzanne Reynolds & Hoppy Elliot
Barbara & The Honorable Billy Richardson

Silver
Anonymous
Dr. Marcia Angle & Mark Trustin
Linda & Mitch Bollag
Rebecca & John Britton – Britton Law P.A.
Ann & John Campbell
Jean Cary & George Danser
Center for Responsible Lending – Self-Help Credit Union
J. Sam Cone
Copeley Law PLLC
Stephanie Fanjul
Susan & Chris Graebe
Lark Hayes & Jane Preyer
Lancaster Craig & Associates
Tammie & Lou Lesesne
Susan Lupton & Bob Schall
Julie King Mooney & Dr. Richard Mooney
Rep. Marcia Morey
Mary Mountcastle & Jim Overton
North State Bank
Susy Pollitt & Bill Rowe
Romeo, Wiggins & Company, LLP
Gayle Ruedi
Susan & The Honorable Thomas Ross
Scottie Seawell & Phil Boyle
Gerda Stein
The Honorable Mary Ann Tally
Cathy Tamsberg & Felicia Roper
John Vail
Senator Terry & Ted Van Duyn
Tin Fulton Walker & Owen, PLLC
Diane Vannais & Dr. Charles Waldren
Dr. Jesse White
Carole & Brad Wilson
The Honorable Leslie Winner & Jerry Postema
Womble Bond Dickinson (US) LLP
Bronze
ACLU NC
Robin Allen
Nancy & James Anderson
Anonymous
Dave Austin & Pamela George
Elizabeth & Wade Barber
Beaver Courie Sternlicht Hearp & Broadfoot, P.A.
Betty & Dr. David Bland
Deborah S. Bosley
Jan & Jim Brittain
Don Carroll
Dee Cash & Frank Goldsmith
Mimi Chapman & Adam Searing
The Honorable Beverley Clark
John H. Clark
Woody Connette
Elizabeth & William Corbett
DeWitt Crosby & Richard Wechsler
Laura Crumpler & John Dowd
Anne Dahle
Anne Deloria & Bob Jackson
Jenny & Sen. Kirk deViere
The Honorable Margaret Dickson
Drew Erteschik
Melissa & Larry Essary
Financial Protection Law Center
Rep. Susan Fisher
Adrienne Fox
Fox Rothschild LLP
Patti Gillenwater, Elinvar
The Honorable Rick Glazier
Glenn + Mills + Fisher + Mahoney, P.A.
Hope & Gerry Hancock
S. Ellis Hankins
Deb & George Hanna
Sally Higgins
Ellen Holliday & Ted Fillette
The Honorable Richard Hooker, Jr.
Rep. Verla Insko
Jewelsmith
Chris Jones
Claudia Kadis
The Honorable Patsy Keever & Jim Aycock
Helen Ladd & Edward Fiske
Susan & Mike Land
Barbara & Lou Lanwermeyer
The Law Offices of Gilda A. Hernandez, PLLC
Melinda Lawrence & Greg Malhoit
Dr. Jennifer Leeman & Tom Munk
Susan Loudenslager & Greg Smith
Louise & Rep. Grier Martin
Lucy & Javier Martinez
Jennifer McGovern & Steve Unruhe
Ann McKown & Daniel Hudgins
Kim Marie McLellan
Carlene McNulty
Laura Meier
Heloise Merrill
Christine Mumma
Mutual of America
NC Advocates for Justice
NC Child
NC Council of Churches
Gene Nichol
Martha & Tommy Odom
Peg O'Connell in memory of Insurance Commissioner Jim Long
Joyclynn & Greg Patterson
Jane Pinsky & Dr. Rich Adelman
William Garrison Porter
Lisa Price & Cong. David Price
Protect Democracy
Bryna & Greg Rapp
Ann & Blaine Sanders
Helen Savage
Allen and Jessica Schorr Saxe
Wendy Schorr & E. Steven Cruz
Pam Silberman & Jack Holtzman
Julienne Smrcka and Dr. Harvey Allen
Kerrie Stewart
Angilique & Adam Svolto
Amy & Hal Tribble
Janice Valder
Jenny Warburg
Debby & Gregg Warren
Jane Wettach & Paul Baldasare
Leona & Willis Whichard
Judy Whisnant & John Bell
Williams Mullen
Holly & Jim Wood
Reverend Sarah & Senator Mike Woodard
STEERING COMMITTEE
John Bell, Lou Lesesne, Susan Lupton
Board: Julienne Smrcka, The Honorable Leslie Winner, Kerrie Stewart
Staff: Daniel Bowes, Nataly Del Riego, Nicole Dozier, Matthew Ellinwood,
The Honorable Rick Glazier, Julia Hawes, Susan Dunn Land, Lucy Martinez,
Kim-Marie McLellan, Carlene McNulty, Dani Moore, Al Ripley, Bill Rowe,
Rob Schofield, Alexandra F. Sirota, Adam Svolto
PS – Please contact me at Kim_marie@ncjustice.org or (919)856-3185 with any questions.