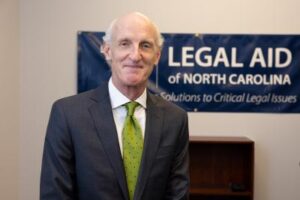 George Hausen
Former President and CEO, Legal Aid NC

George Hausen, founding President and Executive Director of Legal Aid of North Carolina, led the organization for over 20 years. Hausen's steady, tireless, and innovative leadership has guided the organization from a law firm into the full-scope human-services organization it is today.
During his tenure, his team launched innovative projects aimed at providing holistic services to its clients, including the NC Navigator Consortium, which helps enroll North Carolinians in affordable health insurance on HealthCare.gov; the NC Medicaid Ombudsman, which serves as the advocate for beneficiaries in North Carolina Medicaid's new Managed Care system; and the Disaster Relief Project, which helps vulnerable households prepare for, respond to, and recover from ruinous natural disasters.
Hausen ensured that Legal Aid advocates could deliver the most impactful service to those who need it most. Legal Aid has served 800,000 households since its launch in 2002. It is one of the largest human-service nonprofits in North Carolina, the fourth largest law firm in the state, and one of the largest civil legal aid organizations in the country.
Before moving to North Carolina, Hausen practiced housing and civil rights law in Chicago at the Lawyers Committee for Better Housing. He is also proud of his service as a Peace Corps volunteer and earlier in life as a U.S. Marine.