RALEIGH (April 13, 2023) — The North Carolina Justice Center has released its latest policy brief on the potential impacts of Senate Bill 670. Download the full brief here.
Senate Bill 670 would radically overhaul North Carolina's school funding system from a resource allocation model to a weighted student model. Contrary to the claims of misguided advocates, there's nothing magical about weighted student models. Lawmakers can craft an effective resource allocation model just as easily as they can craft an effective weighted student model. What matters to students are the policy decisions of lawmakers, not the choice of model. Unfortunately, S670 reflects exceptionally poor policy decisions.
The new changes fail to address North Carolina's biggest challenge: a lack of adequate funding. Our school funding effort – the amount we spend as a share of our GDP – is dead last in the nation. 92 percent of North Carolina students attend districts spending less than the estimated amount necessary to achieve national average test scores. North Carolina has the most students in inadequately funded districts. S670 fails to address adequacy, as the bill does not appropriate any additional funding. It simply changes the distribution of funding across districts.
The proposed system worsens funding equity by generally shifting funding out of small, rural districts and into urban districts. Both Charlotte-Mecklenburg and Wake Counties would see their state funding increase 3.5 percent and 4.5 percent, respectively. Meanwhile, Hyde County and Tyrell County's funding would decrease a whopping 50 percent and 43 percent, respectively. A full map of the bill's district-by-district impact can be found here.
The plan is less equitable for Black students, economically-disadvantaged students, and students with disabilities. When it comes to students, this proposal would further disadvantage students in low-income communities, Black students, and students with disabilities. Students with disabilities would lose access to a dedicated funding stream. Currently, the $1.1 billion that the state appropriates for students with disabilities must be spent on students with disabilities. Under S670, weighted funding generated by students with disabilities could be used for any purpose.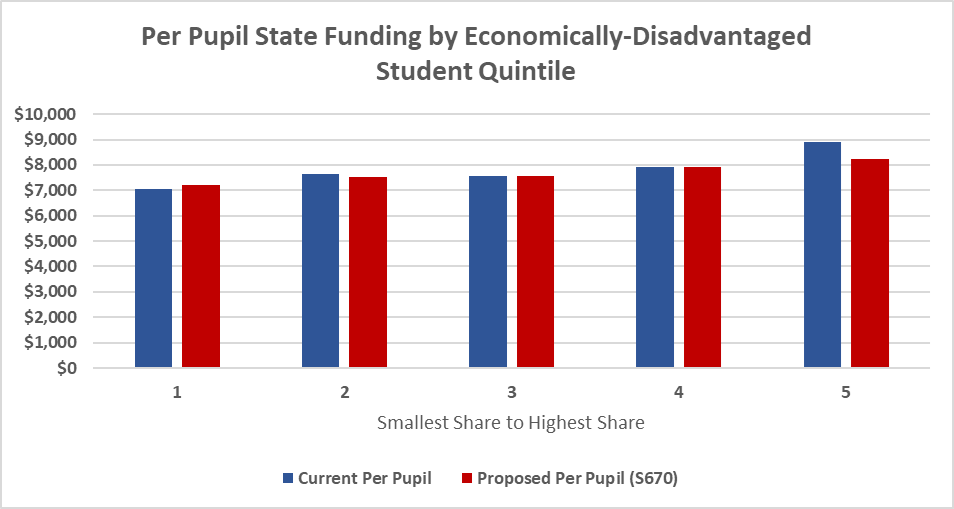 North Carolina students would be much better served if lawmakers instead implemented the research-based and community-supported Leandro Comprehensive Remedial Plan. The Leandro Comprehensive Remedial Plan – a product of North Carolina's 29-year school finance litigation – addresses the obvious weaknesses in North Carolina's school funding system. The Plan calls for a 45 percent increase in State funding and mandates that funding is directed to the students and districts where additional resources are most needed. The Plan calls for dramatic increases to funding benefitting disadvantaged, disabled, and multi-lingual students as well as new programs and supports for schools serving higher percentages of students from families with low incomes.
###