Join us May 20th, 2021 to honor and celebrate Polly Williams, a Lifetime Champion of Justice!
When: Thursday May 20, 2021 from 12 to 1 PM
Where: Online, Virtual Event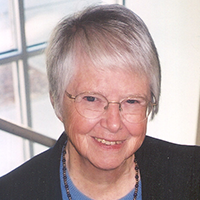 Polly Williams
Since retiring as a professor of English at NC State University, Polly Williams
has been a public policy advocate for older North Carolinians. In addition to
her work with the NC Coalition on Aging, where she served as an officer,
Polly has shared her knowledge, expertise, and time with a number of other
organizations including the NC Justice Center. She has volunteered with the
organization since 2001, specializing in issues related to aging and health.


Thank you to our sponsors!
Ally
Nancy Shoemaker
Stacey & John Williams
Associate
Rep. Cynthia Ball & David Aspnes
Martha & William Lamb
Friend
Rep. Verla Insko
Mary Klenz
League of Women Voters of Wake County
NC Women United
Janet Nichols
Sarah Preston & Raul Pinto
US Rep. Deborah Ross
Sorien Schmidt
Brenda Summers, Ed.D.
Debra Tyler Horton
Roberta & Floyd Waddle
Hope Morgan Ward & Mike Ward
Jennifer Weiss & Bruce Hamilton
John I. Wilson
Thank you for supporting our Celebration to Honor Polly Williams event.
If you prefer to make your sponsorship by check, please fill out this form and send to:
NC Justice Center
Attn: Kim-Marie McLellan
224 S. Dawson Street
Raleigh, NC 27601
STEERING COMMITTEE
Bill Lamb, Anne Mackie, Sorien Schmidt, Brenda Summers,
Debra Tyler-Horton, Paula Wolf, Patricia Yancey
Staff: Nicole Dozier, Dani Moore, Phyllis Nunn,
Ana Pardo, Bill Rowe
PS – Please contact me at Kim_marie@ncjustice.org or (919)856-3185 with any questions.