RALEIGH (April 8, 2020) — Local labor market data for N.C. for February was released today, but it doesn't present the whole picture of what's happening right now.
"February will mark the end of an incomplete recovery from the Great Recession and we need to be preparing now for a downturn at least as bad as that this time around," said Patrick McHugh, Senior Economic Analyst with the North Carolina Budget & Tax Center. "We're experiencing the fastest loss of jobs in American history and will hit half a million North Carolinians filing for unemployment as a result of this crisis in the next few days. People are suffering, so the state legislature needs to act urgently to keep the economic consequences of this outbreak from getting far worse."
For daily updates on the number of Unemployment Insurance claims and ongoing analysis of the economic impact of COVID-19, visit NCJustice.org/labormarket.
Economic challenges facing North Carolina include:
Many communities that never recovered from the Great Recession likely to be hit the worst: The full extent of the economic damage won't show up in the headline unemployment rate because many people who are going to be furloughed, can't work because they are sick or caring for a loved one, or just know there aren't any jobs to be had won't be counted as officially unemployed. Even so, we're still likely to see levels of unemployment as bad or worse than the Great Recession. The most severe impacts are likely to be in economically vulnerable communities, many of which never fully recovered from the last recession.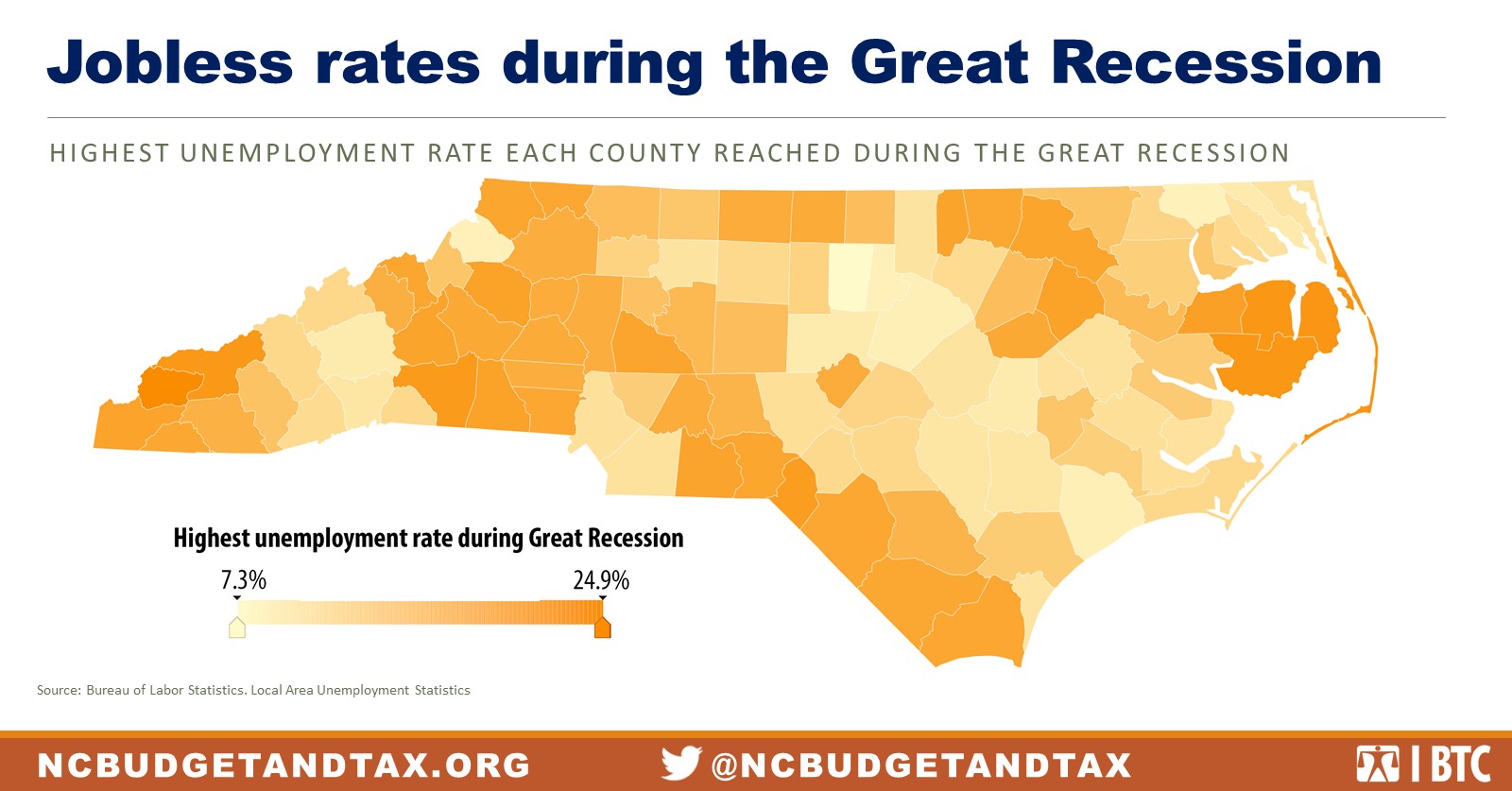 (Click image for an interactive version to see each county rate.)
Cash aid passed by Congress won't sustain families for long and may not reach many in the greatest need: As detailed in a report released today, the cash aid passed as part of the CARES Act will only cover basic living expenses for a few weeks so it's not going to get people through this crisis or pull the country out of a deepening economic hole. Compounding that problem, distributing the checks as a tax rebate means it will take the longest to reach a lot of people who need it the most, and many won't get it at all.
Unprecedented spike in Unemployment Insurance claims in recent weeks: Between March 16 when the economic consequences of the COVID-19 outbreak started in earnest and April 7, nearly 475,000 North Carolinians filed Unemployment Insurance claims. With a state Unemployment Insurance system that has been set up to serve too few people in recent years and an underfunded, understaffed infrastructure to cope with surge in need, the number of people who have lost work in the past few weeks is certainly even higher than that.
For charts showing the most recent labor data, visit the Budget & Tax Center's Labor Market page at NCJustice.org/labormarket.
For more context on the economic choices facing North Carolina, check out the Budget & Tax Center's Prosperity Watch report.
FOR MORE INFORMATION, CONTACT Patrick McHugh, Budget & Tax Center Senior Economic Analyst, at Patrick.McHugh@ncjustice.org or 919-856-2183; or Mel Umbarger, Senior Communications Specialist, at mel@ncjustice.org.
The Budget and Tax Center conducts non-partisan analysis of state budget and tax policy and monitors economic conditions in the state. We produce timely and accessible research that contributes to policy discussions and public debate, with the goal of building a broader understanding of the role of policy in supporting economic opportunity for all.