BTC's report discusses lessons learned ahead of allocation of American Rescue Plan dollars, state funds
RALEIGH (April 22, 2021) — A new report released today by the Budget & Tax Center documents some of the lessons learned in the past year of the COVID-19 pandemic and the effects of previous pandemic aid.
The report shows that the recovery needs the action of state leaders. High-wage and medium-wage jobs have more than recovered from the initial losses, while more than 1 in 7 of the worst-paid jobs in North Carolina are still missing. And by the latter part of 2020, roughly 30 percent of women who had lost a job due to COVID-19 were out of work because they lacked child care — compared with only 4 percent of men.
"North Carolina has some big choices to make in the coming months, choices that will shape how the recovery from COVID-19 happens, and what kind of state will emerge from the pandemic," said Patrick McHugh, Research Director for the North Carolina Budget & Tax Center and author of the report. "The response thus far has failed to address the scope of the harm created by COVID-19 and threatens to leave our state worse off, even once the pandemic has passed. With federal aid from the American Rescue Plan to be allocated and state dollars available, North Carolina can afford a plan that gets everyone a recovery."
Some of the key lessons documented in the report include:
The response thus far has left North Carolina more divided, unequal, and vulnerable: Our response thus far has put already financially strained families in a deeper hole, while many wealthy people and big corporations have gotten even richer. Racial and regional economic divides have widened, the recession has been most devastating for North Carolina's lowest-paid workers, and we've lost years of progress in closing the economic gender gap. Many policy choices made over the past year have turned COVID-19 from a shared threat into a disaster wreaking havoc along the pre-existing fault lines of our economy.
It is time to put the billions of dollars North Carolina has sitting in the bank to work: As of January 2021, North Carolina had over $5 billion in completely unallocated funds sitting idle. Some of this was understandable in the early months of the pandemic when it was not clear how the recession would impact revenue collections, but it has been clear for several months now that North Carolina has the resources to invest in recovery.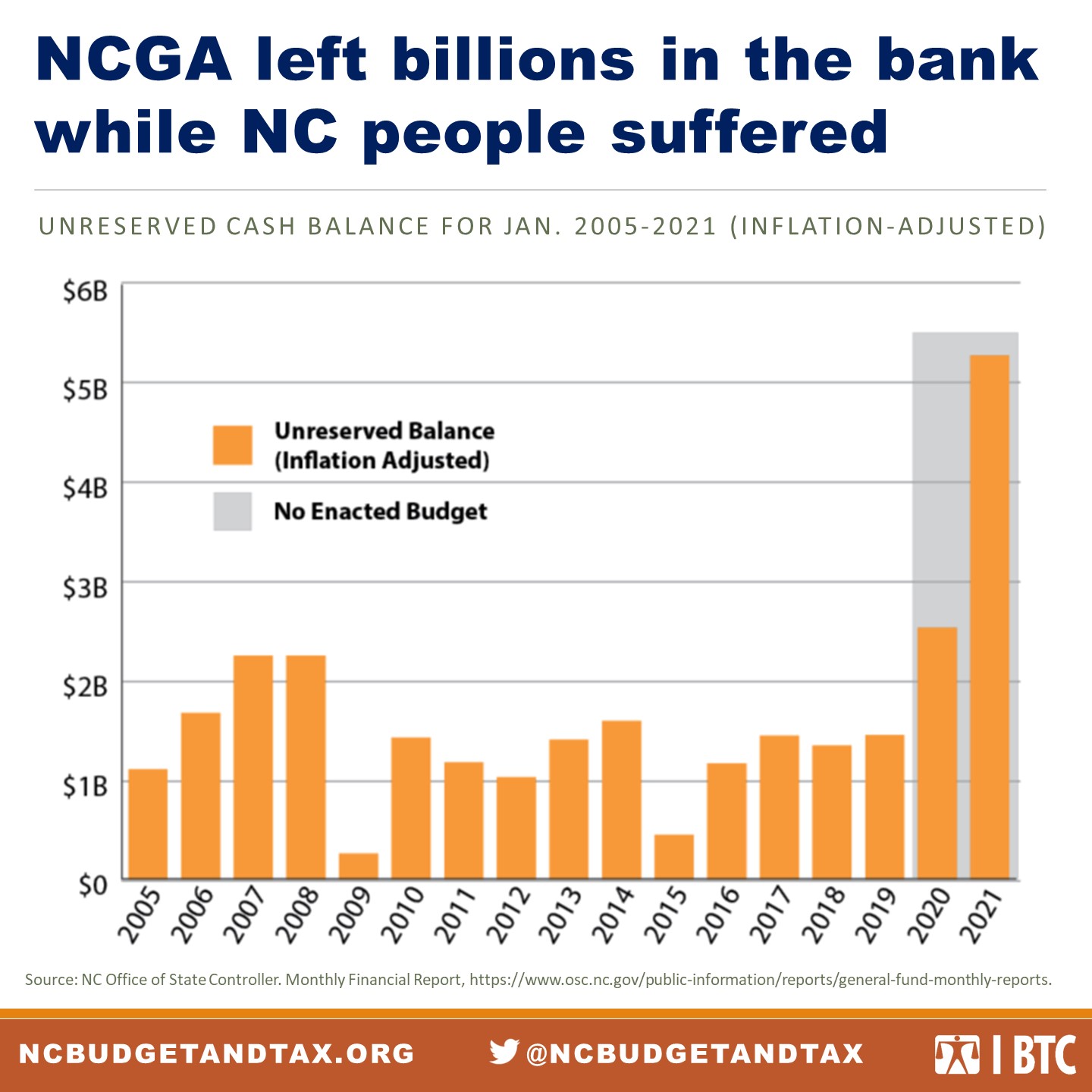 More clarity and flexibility in funding would strengthen our response: The General Assembly allocated federal funds from the CARES Act to over 140 distinct purposes, including a long list of narrow funding streams, special carve-outs, and limitations on how funds could be used. All of this created a mess for agencies trying the fight the pandemic. Agencies and communities need more certainty that aid will be provided and the flexibility to manage an evolving pandemic.
Local governments need more support: The CARES Act included over $480 million for North Carolina's four largest local governments (Charlotte, Guilford County, Mecklenburg County, and Wake County). The General Assembly only appropriated $300 million in federal funds for all other local governments combined. Governments representing the residents of the three counties which got aid directly from the federal received an average of more than $170 resident per resident, compared to less than $40 per resident passed along by the General Assembly to governments representing the rest of the state.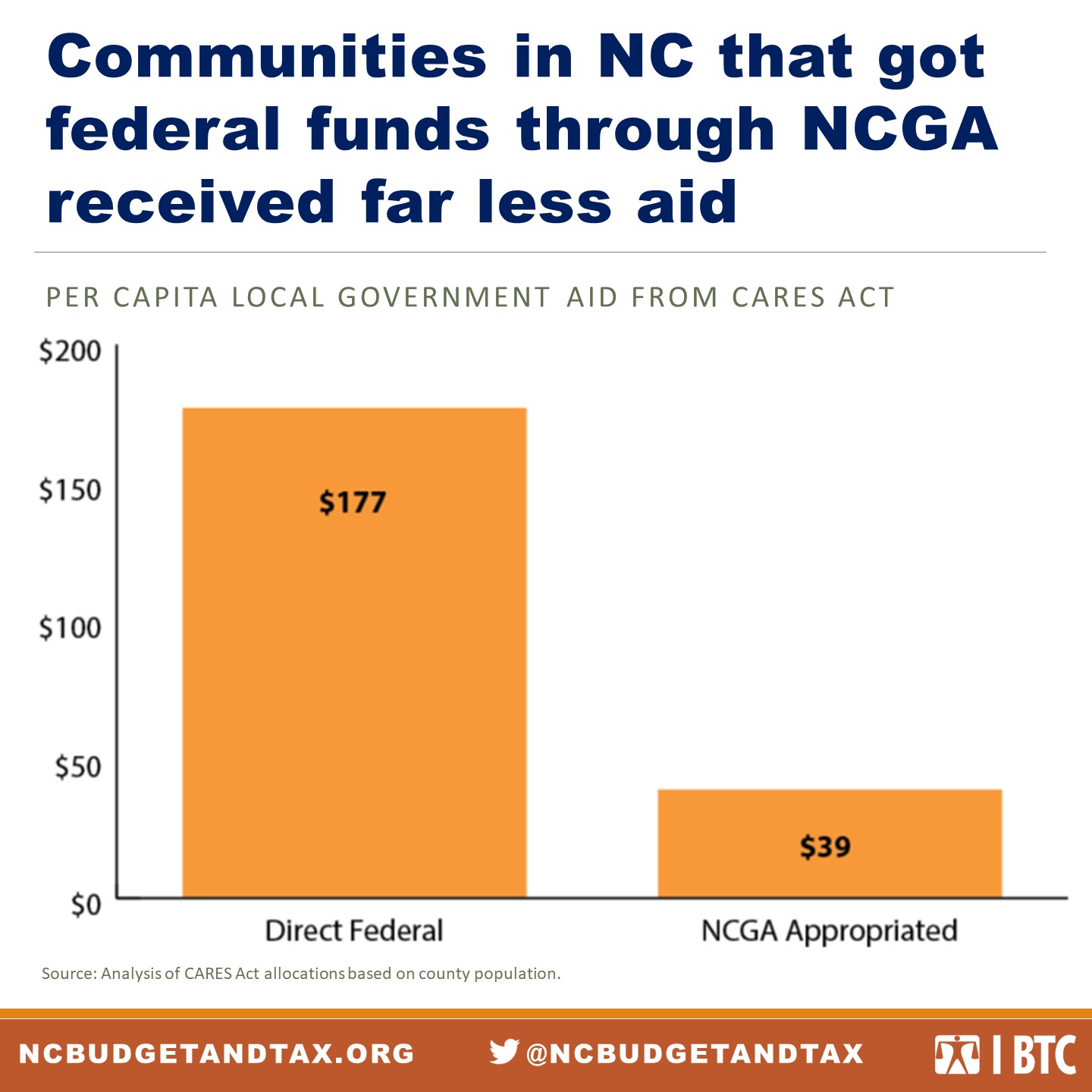 Families need targeted aid that is not locked behind barriers. North Carolina policy makers can do much more to ensure aid goes to communities experiencing the worst financial fallout from COVID-19. One of the largest appropriations of CRF funds last year (totaling over $440 million) failed to direct aid where it was most sorely needed. The "Extra Credit Grant" assistance was given out regardless of whether recipients had lost jobs or faced financial hardship, diverting aid from people in the most need to high-income families in no immediate distress. All told, the General Assembly approved less than $300 million in direct financial assistance to individuals experiencing demonstrated harm from COVID-19 across a number of programs, compared to over $440 million in the Extra Credit Grants alone.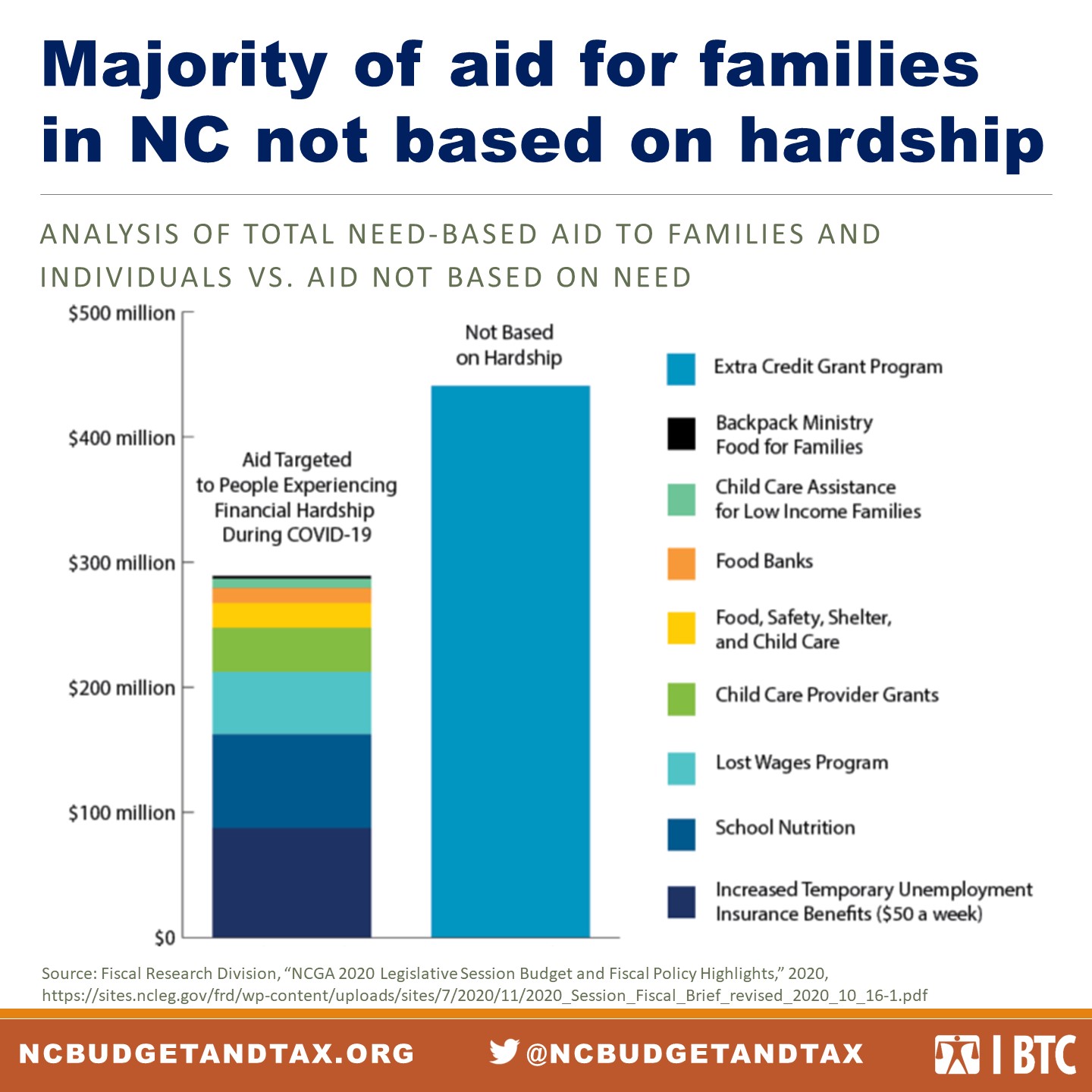 Unpredictable aid has created financial hardship for North Carolina families. Hardship over the past year has been greatly compounded by a lack of reliable aid for people trying to make ends meet. Families in financial peril have been forced to burn through savings, go into debt, and make painful choices as elected leaders in Raleigh and Washington have doled out assistance in slow and unpredictable ways. More than a quarter of a million North Carolinians were behind on rent, half a million adults live in households without enough food, and nearly one-third of North Carolinians are still having difficulty paying for usual household expenses.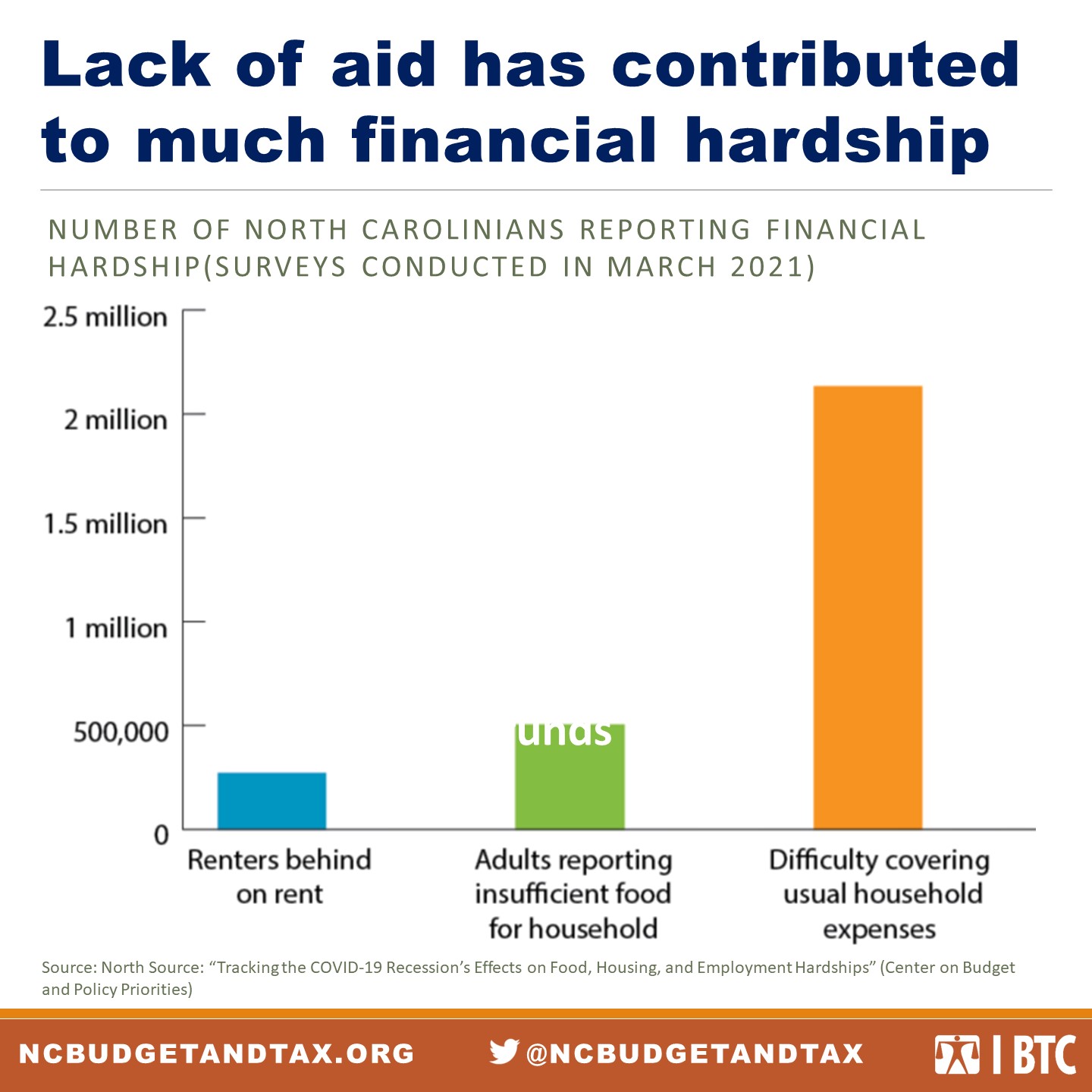 "Real recovery requires sustained commitment to rebuilding our public institutions," said McHugh. "Trying to patch holes with one-time fixes will leave us exposed the next time the winds kick up, so we cannot simply look to the next few months in deciding how to build for the future. Even with more federal aid on its way, North Carolina needs a plan for the longer future which will better prepare us for the next crisis."
FOR MORE INFORMATION, CONTACT Patrick McHugh, Budget & Tax Center Research Manager, at patrick.mchugh@ncjustice.org or 919-856-2183; or Mel Umbarger, BTC Senior Communications Specialist, at mel@ncjustice.org.
The nonpartisan Budget & Tax Center is a project of the NC Justice Center, which works to eliminate poverty in North Carolina by ensuring every household in the state has access to the resources, services and fair treatment it needs to achieve economic security.