New data should inform need for public investments as lawmakers craft state budget
RALEIGH (July 8, 2021) – The General Assembly will continue its work next week toward a final budget even as new data shows that hardship is widespread at North Carolina.
Without a final budget and the powerful potential of public investments to advance well-being and connect people, businesses, and communities to the supports to secure a recovery, the toll on people and places across the state is mounting.
The Budget & Tax Center released two analyses this week that document hardship in North Carolina, providing further indication of where policymakers should focus their work as they craft a state-level plan for strengthening the resiliency of communities.
A brief on hunger in North Carolina authored by Heba Atwa, Policy Advocate with the Budget & Tax Center, details the elevated levels of food insecurity in North Carolina.  Before the pandemic, NC had the 9th highest rate of food insecurity in the country, and current levels of hardship in putting food on the table signals persistent challenges in ensuring that people have nourishment to live a full, healthy life.
Food assistance, delivered primarily through the Supplemental Nutrition Assistance Program (SNAP), provided a critical support to households — increasing its reach to households statewide by 29 percent over the past year.  Yet barriers to access persist and the value of the benefit is being bolstered by special provisions of federal law that allow people to meet their nutritional needs in times of emergencies.
More than 780,000 North Carolina households are receiving enhanced food assistance, which boosted their monthly food budget by $95.  The benefits are clear — food assistance increases in past recessions resulted in lower levels of food insecurity, and today, these additional federal boosts are pumping more dollars into the economy.
"A budget that ensures people can put food on the table will strengthen the health of families and communities.  Our public dollars should ensure that people can access healthy, affordable food and that families have the income in this moment to sustain healthy outcomes now and for the future," said Alexandra Sirota, Director of the Budget & Tax Center, a project of the NC Justice Center.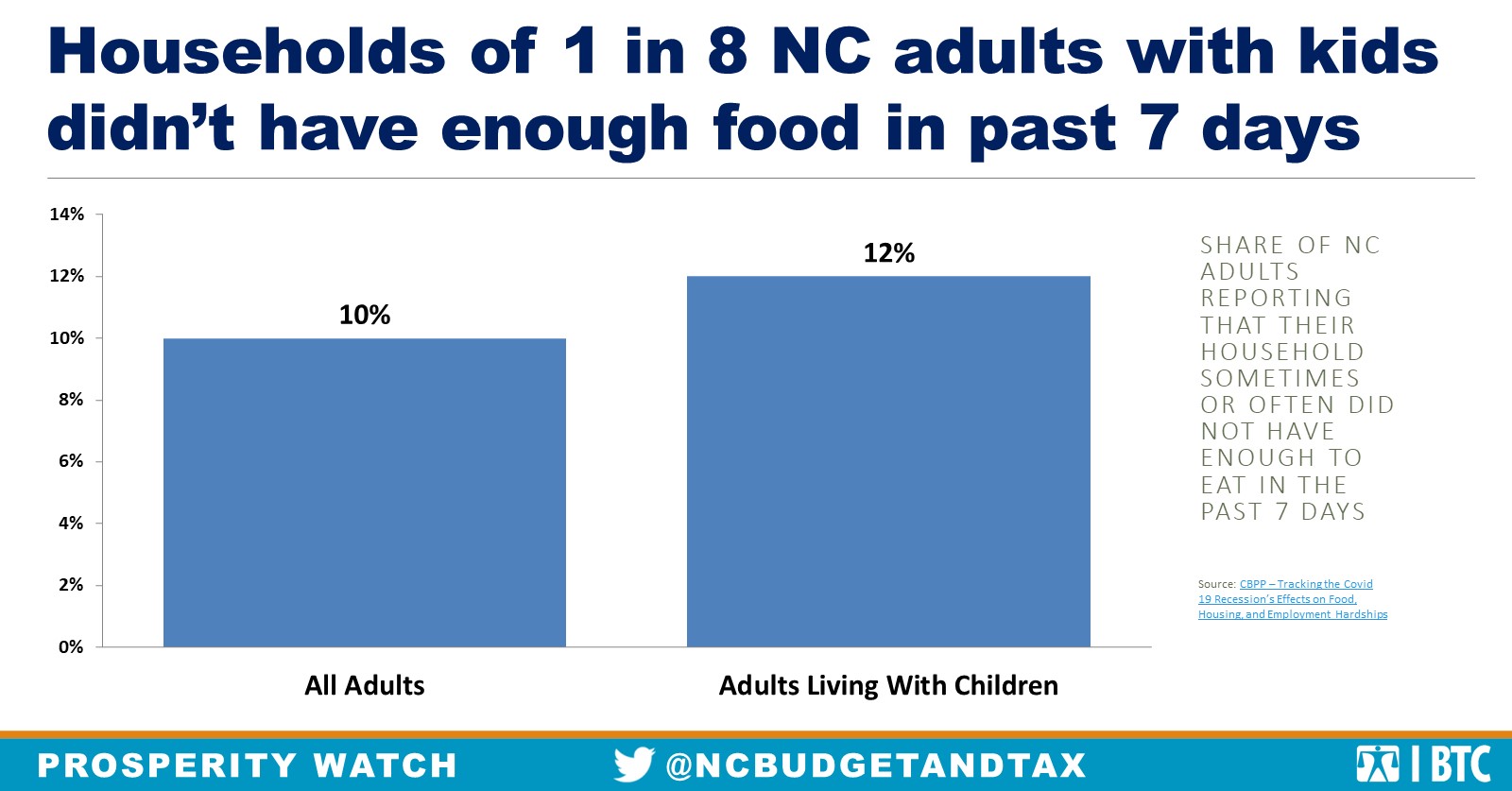 A Prosperity Watch report, authored by Christopher Chaves, provides a review of the U.S. Census Bureau's Household Pulse Survey data collected between May 26 and June 21, 2021 providing further evidence of the challenges facing a significant share of North Carolina's population.
1 in 4 households had trouble affording usual household expenses
1 in 6 renters are not caught up on rent
1 in 8 households of NC adults living with children lacked sufficient food in the past 7 days
As policymakers work to finalize their state budget, addressing the level of hardship in communities should be of primary focus. The spending target agreement made by House and Senate leaders set arbitrary limits on what is possible and fail to address the challenges communities and families face.
"North Carolina lawmakers are currently crafting their proposed state budget, which must prioritize addressing hardship in communities and not arbitrarily follow the dictates of spending targets that prevent our collective tax dollars from providing people with what they need," said Suzy Khachaturyan, Public Policy Analyst with the Budget & Tax Center.
FOR MORE INFORMATION, CONTACT Alexandra Sirota, Budget & Tax Center Director, at alexandra@ncjustice.org or (919) 861-1468; Suzy Khachaturyan, Public Policy Analyst, at suzyk@ncjustice.org; or Mel Umbarger, Budget & Tax Center Senior Communications Specialist, at mel@ncjustice.org.