Unemployment rate dropped in N.C. because people stopped looking for work, not because of job creation
RALEIGH (Sept. 18, 2020) — Labor market data released today show the pace of recovery slowed dramatically in the past two months, leaving North Carolina in a deep economic hole.
"One big story is how many North Carolinians left the labor market entirely in August because of the COVID-19 pandemic," said Patrick McHugh, Research Manager with the North Carolina Budget & Tax Center, a project of the NC Justice Center. "The headline unemployment rate dropped mostly because people stopped looking for work, not because that many jobs were created, which is a deeply worrisome given that we haven't even recovered half of the jobs lost during the first few months of the pandemic."
Economic challenges facing North Carolina include: 
Job growth slowed dramatically in July and August: After June saw nearly 168,000 jobs recovered, a mere 17,000 jobs were added in both July and in August. Thus far, less than half of the jobs lost in March and April have been recovered and North Carolina is still nearly 350,000 jobs short of where we were before the COVID-19 outbreak.
Most of decline in the unemployment rate is due to people leaving the labor market in August. Roughly 100,000 fewer North Carolinians reported looking for work during August than in July, but most of that decline was because people left the labor market instead of having found a job. The number of North Carolinians working or looking for work declined by over 70,000 in August, which means nearly three-quarters of the decline in number of people looking for work was actually due to North Carolinians giving up on finding a job in the short-term.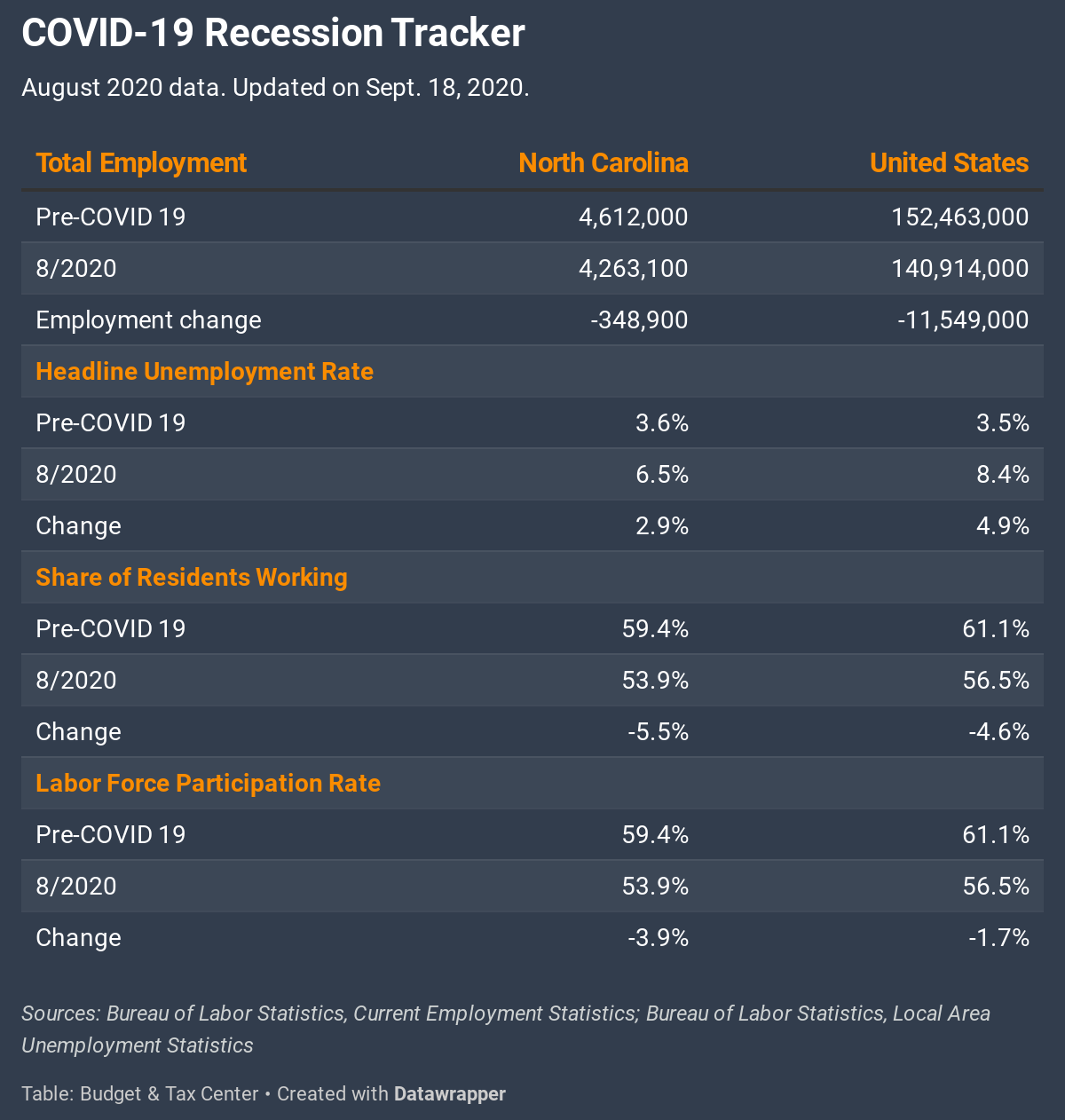 A historically low share of North Carolinians are working: The headline rate only captures people who are actively looking for work, so it won't reveal the true extent of job and income losses for North Carolina families. Only 53.9 percent of North Carolinians were working in August, down from over 59 percent before the COVID-19 outbreak and far below levels that were common throughout most of the 1990s and 2000s.
"Job losses require a policy response that recognizes that the people are the economy. When people lose jobs and wages, the broader economy struggles," said Alexandra Forter Sirota, Director of the Budget & Tax Center. "Current Congressional debate about direct aid to people across our country affected by job losses should conclude with a bold plan to replace wages through a return to the $600 a week in federal Unemployment Insurance."
For charts showing the most recent labor data and COVID-19 job data, visit the Budget & Tax Center's Labor Market page at www.ncjustice.org/labormarket.
For more context on the economic choices facing North Carolina, check out the Budget & Tax Center's Prosperity Watch report.
The nonpartisan Budget & Tax Center is a project of the NC Justice Center, which works to eliminate poverty in North Carolina by ensuring every household in the state has access to the resources, services and fair treatment it needs to achieve economic security. 
FOR MORE INFORMATION, CONTACT Patrick McHugh, Budget & Tax Center Research Manager, at patrick.mchugh@ncjustice.org or 919-856-2183; or Mel Umbarger, Budget & Tax Center Senior Communications Specialist, at mel@ncjustice.org.