North Carolina can't afford the loss of the federal boost to Unemployment Insurance that provides $600 per week to those workers who have lost jobs during the COVID-19 pandemic. Not only are those dollars providing more adequate wage replacement when the loss of work and wages can't be remedied with a job search given the public health crisis, but the $600 per week boost is also stabilizing entire communities as people are able to pay rent and mortgage payments, keep up with utility payments, and other basic needs to get through the pandemic safely and healthily.  
Every county in North Carolina has high shares of their pre-COVID-19 labor force receiving Unemployment Insurance as of the last data available, June 2020. Twenty-nine counties in total had 10 percent or more of their labor force receiving Unemployment Insurance.    
Recent estimates of UI claims through July 11, 2020, suggest that some 484,000 people statewide were receiving the $600/week in federal payments at that point, providing critical support to household budgets and the broader local economy. This critical connection between Unemployment Insurance and the stabilization of local economies is well-documented; dollars going to households that would otherwise cut back on spending or be even more challenged to meet existing expenses like rent causes a  reduction of economic activity at businesses and across a community.   
Researchers have quantified these broader economic benefits of Unemployment Insurance as among the most powerful interventions policymakers can pursue to support economic recovery, particularly in a downturn.  Economists estimate that every $1 in Unemployment Insurance turns into roughly $1.60 in economic activity for our state.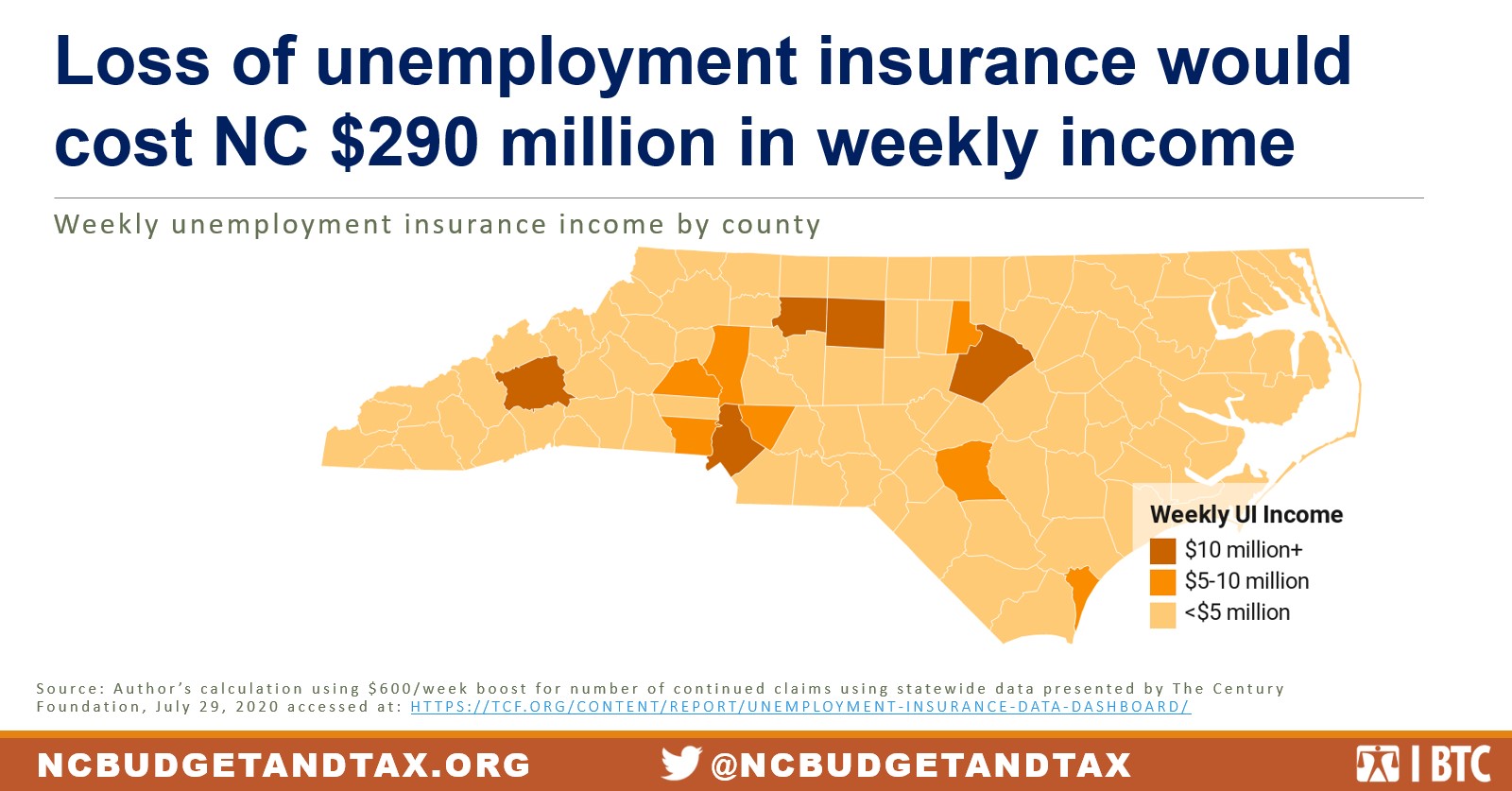 Taken together this research shows that North Carolina counties are losing an estimated $290 million in dollars circulating because of the loss of the $600 per week federal boost. In five counties—Wake, Mecklenberg, Guilford, Forsyth, and Buncombe—more than $10 million each week is lost because the federal boost has not been extended. For a number of smaller counties, these dollars from Unemployment Insurance represent a significant share of income among residents.