As the U.S. economy slows, indicators in North Carolina continue to reflect an extremely uneven recovery, signaling danger for communities poorly positioned for a downturn. June local labor market shows that urban centers such as Raleigh, Charlotte, Asheville, and Winston-Salem continue to lead the state in job growth year-over-year, but many communities are being left behind. Micropolitan areas like Elizabeth City, Washington, and North Wilkesboro have lost jobs both since the Great Recession as well as year-over-year. Wilson, in particular, has lost 13 percent of its jobs since December of 2007 and almost 1 percent of its jobs since June of 2018. Additionally, there has been a slight uptick in unemployment in most metro and micro statistical areas across the state over the past two months.
County-level analysis provides a more localized view of unequal economic outcomes throughout the state. There are 40 counties that have fewer jobs than at the beginning of the Great Recession, mainly concentrated in rural North Carolina. Thirteen of those 40 counties also lost jobs year-over-year, classifying them as "Double Whammy" counties. These are counties that have lost jobs since December of 2007 and year-over-year, nine of which are concentrated in eastern North Carolina, underscoring regional challenges.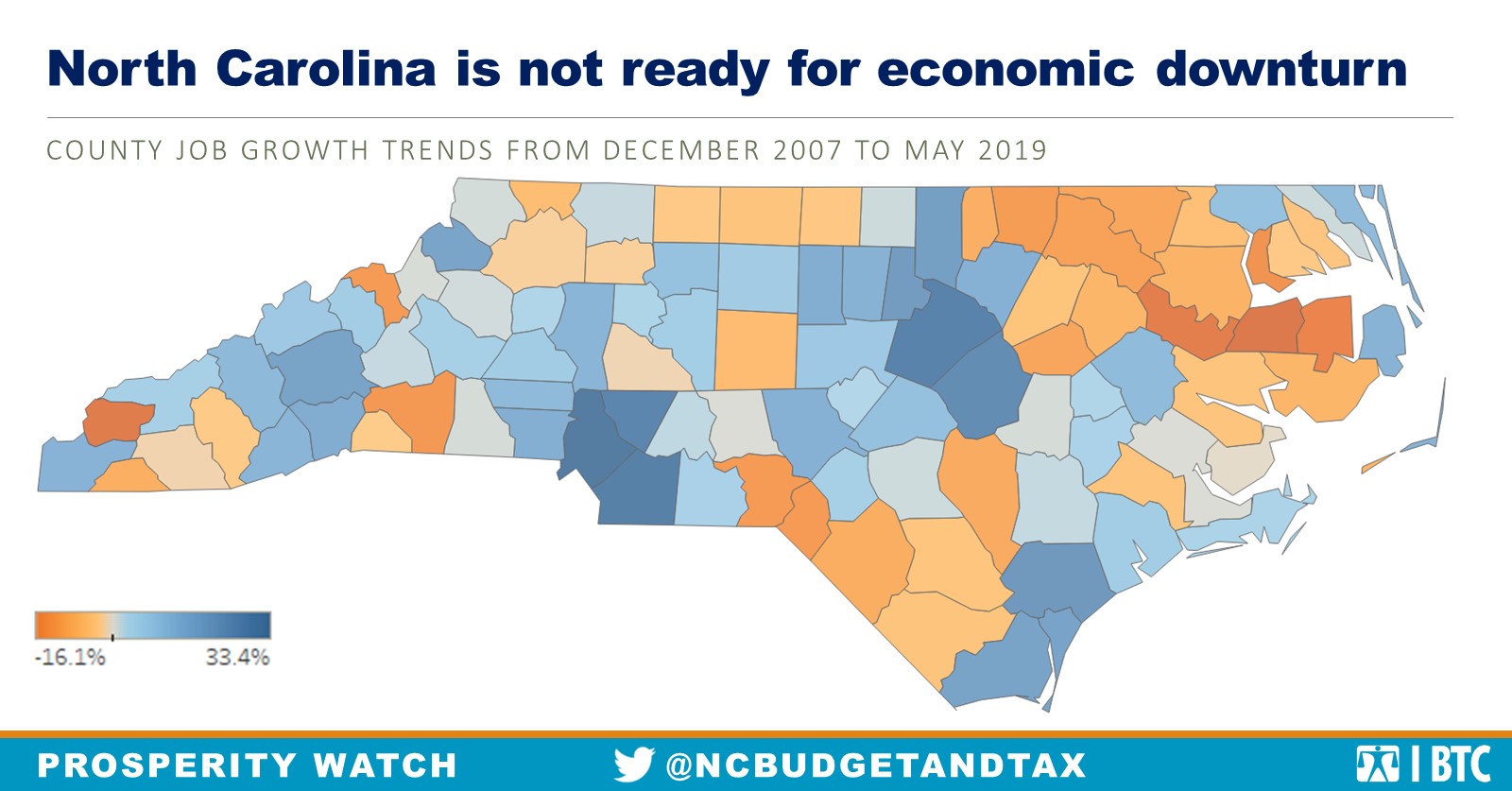 All the economic indicators are not negative coming out of rural North Carolina. Five western North Carolina counties lead the state with year-over-year job growth, three of which are considered rural and two suburban[1]. Buncombe, Haywood, Madison, Henderson, and Jackson counties have all experienced job growth in excess of 4 percent since June 2018. Four of these five counties have seen double-digit job growth since December of 2007, and all have unemployment rates lower than the state average.
June's labor market data paints a picture of a state with extreme highs and lows. It is clear that Eastern N.C. has not recovered sufficiently from the Great Recession, while some non-urban pockets are showing remarkable promise. This lack of collective strength leaves the state vulnerable for impending shocks from natural disasters and economic downturns.
[1] County classification analysis from NC Rural Center, 2019 – https://www.ncruralcenter.org/about-us/