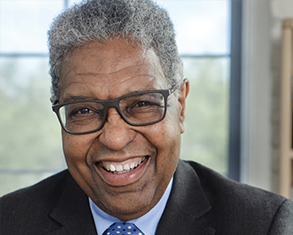 Policy Research & Advocacy Award
Dr. William A. Darity, Jr., Samuel DuBois Cook Distinguished Professor of Public Policy
William Darity Jr. has served as chair of the Department of African and African American Studies and was the founding director of the Research Network on Racial and Ethnic Inequality at Duke University. Darity's research focuses on inequality by race, class, and ethnicity; stratification economics; schooling and the racial achievement gap; North-South theories of trade and development; skin shade and labor market outcomes; the economics of reparations; the Atlantic slave trade and the Industrial Revolution; the history of economics; and the social-psychological effects of exposure to unemployment.
Dr. Darity has held long-standing faculty positions at UNC-Chapel Hill & Duke University, among various other prestigious appointments.
He has trained countless students and academics who are engaging in pathbreaking research and action-oriented analysis to build a more just North Carolina and country.
He is a world-renowned expert on race (particularly the African Diaspora), economic & social stratification, labor market outcomes, the United States' racialized education system/structures, and is the leading national researcher on Baby Bonds/reparations for Black Americans.
He also makes it a point to participate in numerous events annually, such as the Color of Education Summit or the Black Communities Conference, that arm North Carolinians with the tools necessary to begin dismantling structural inequalities.
Professor Darity has provided significant policy guidance and input to the North Carolina Justice Center's work on how to ensure the economy works for all and our state policy choices address systemic racism that has generated tremendous wealth inequality.
Professor Darity has participated in the Economy for All lecture, provided input on discussions of baby bonds at the state level and engaged with local and state leaders on a range of economic and racial justice issues.
His work to amplify the case for reparations has informed a generation of economists and policy thinkers and brought the topic to a more central place in our nation's discussion of the concrete ways to pursue acknowledgement, redress and closure from our horrific actions.
To summarize, he is making change in North Carolina and across our country!