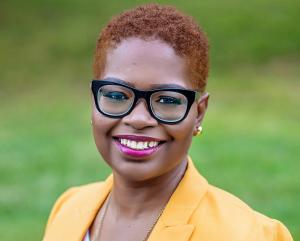 Grassroots Empowerment Award
Letha Muhammad
Executive Director of The Education Justice Alliance
Letha Muhammad is the Executive Director of Education Justice Alliance (EJA), based in Raleigh, North Carolina.  Letha is working to advance the organizations mission to dismantle the School to Prison and School to Deportation Pipeline in her local school district, Wake County Public Schools and to advance equity in public education. As well as in other districts across North Carolina. She believes that working with parents, students and families that are directly impacted by these issues is one of the most effective ways for her to contribute. As such, her work includes engagement and leadership training with parents, students, and community members to ensure they know their rights and how to advocate for themselves and students.
Working with other community stakeholders and organizations to bring awareness to the issue of school pushout and the criminalization of Black and Brown students is another one of her key roles as director.
Letha represents EJA on the Coordinating Committee of the National Dignity in Schools Campaign and serves as co-chair on their fundraising/finance committee.
Letha is also a member of Muslim's for Social Justice (MSJ) and on the steering committee of the Movement to End Racism and Islamophobia (MERI).
Additionally, Letha is on the Coordinating Committee of Communities for the Education of Every Child NC (a community led coalition demanding full and equitable school funding).
She is a nationally recognized advocate for education equity and our most trusted partner in this space. Letha has been an indispensable voice for underserved children and a strategic thought partner in shaping our coalition's organizing plan.
She is an expert at community and partner engagement and has worked tirelessly to equip community members with the tools and skills needed to advance their own work around education equity.
Her work has been fundamental to the struggle for racial justice and in addressing the harm caused to Black and brown students through our public school's disciplinary practices- particularly the school-to-prison-deportation pipeline.
Some of the actions Letha has led on recently include:
Pushing back against H247
Collecting community surveys across Wake Co. in response to proposals to change policies regarding SROs contracting with WCPSS
Weekly bilingual parent empowerment workshops
Organized a Spanish language policy collaborative event in partnership with Every Child NC
See more here!
Letha speaks with conviction and experience when discussing the structural racism her children have endured in NC public schools and the importance of families, students, and community members engaging in policy and political organizing!