The U.S. economy is slowing down. Against a backdrop of slowing growth in Europe and China,  the United Kingdom's messy exit from the European Union, and proliferating trade conflicts, slowing growth in the United States has many economists worrying the next economic downturn could set in before we've even recovered from the Great Recession.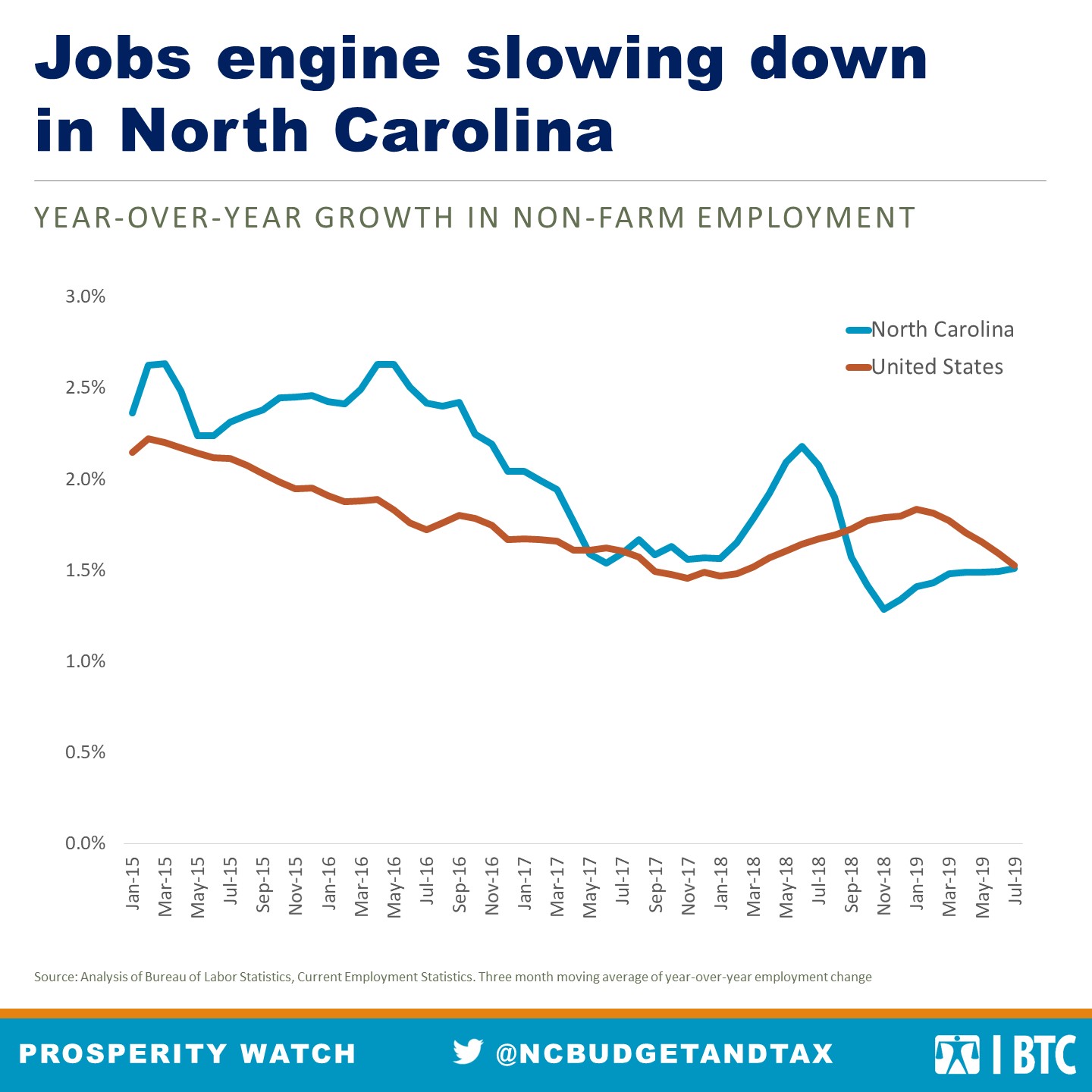 Job growth in North Carolina and across the county has been markedly lower than 2018 and far below the levels produced between 2014 and 2016. The most recent jobs figures indicate North Carolina added roughly 76,000 jobs from July of 2018 to July of this year, a growth rate of only 1.6 percent. In comparison to the period between 2015 and 2016, when North Carolina was adding more than 100,000 jobs a year, employment growth over the past six months has been alarmingly weak. A similar story is playing out across the country, with the short-term stimulus from 2017 tax cuts evaporating and job growth falling to levels we have not consistently seen since the immediate aftermath of the Great Recession.
Slumping job growth increases the risk North Carolina will not escape the crater left behind by the Great Recession before the next downturn arrives. North Carolina is still 380,000 jobs shy of what it would take to get back to pre-recession levels of employment, and the story in many parts of the state is even more dire. Forty of North Carolina's 100 counties have fewer jobs today than before the Great Recession, and 13 of those counties actually lost jobs in the last year.
While no consensus exists about when the next recession will take place, signs of economic weakness have rattled stock markets in recent weeks, sent investors looking for safe places to stash their wealth, and caused many businesses to hold off on new investments and hiring. Time will tell whether this proves to be a temporary slowdown or the prelude to something worse, but it is clear 2019 has not generated the type of growth that expands economic opportunity and prosperity.